With almost nine months in the books, 2022 is proving to be a pretty good year for funding by innovation companies in Atlantic Canada, on track for a quarter-billion dollars in equity capital.
With the announcement of a $5.1 million funding round by The Rounds of Halifax on Tuesday, we've tallied about $137 million in private capital raised by Atlantic Canadian startups this year. Adding on $54.5 million by publicly listed companies, we arrive at a total of $191 million.
It suggests we're on track to attract round-about $250 million in capital in 2022, assuming financial markets behave themselves for another three months and two weeks. That wouldn't be a bad year of funding all things considered. It just wouldn't be as good as the stellar year in 2021.
At Entrevestor, we track several metrics including funding by Atlantic Canadian startups and innovation-driven companies, and publish the results in our annual Atlantic Canadian Startup Data report. We traditionally consider funding from five sources (founders, friends and family, angels, VC and strategic). In the past four years, we've also tracked funding by innovators listed on stock markets as these transactions impact East Coast innovation.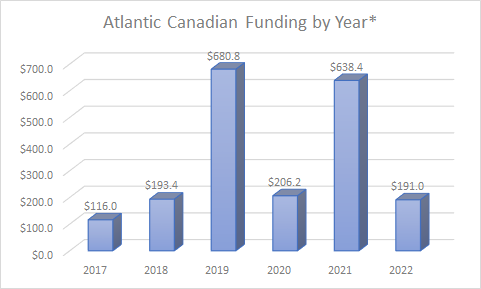 *Includes public companies; 2022 data spans Jan. 1-Sept. 13.
Our research shows there were two exceptional years for funding in the region. In 2019, the results were skewed by a $515 million equity-and-debt round reported by St. John's-based Verafin. And in 2021, the funding levels soared again when Dartmouth-based Meta Material raised $193 million via its listing on the Nasdaq, and Fredericton- and Miami-based Introhive closed a US$100 million ($122 million) venture capital deal.
In presenting our data, we describe 2021 as the best year the community has seen for funding, because we've never seen so much capital raised by so many companies. Atlantic Canada missed out on most of the "mega-rounds" of $50 million or more that dominated the Canadian VC market last year. Nevertheless, we counted 40 Atlantic Canadian companies that raised more than $1 million – a first for the region.
The raises this year are likely to be a bit more modest but still significant.
Two publicly listed companies raised money by selling stock on the public markets – Meta Material for $50 million and Halifax-based Appili Therapeutics for $4.5 million. If we set those aside, here are the largest transactions we've reported on so far this year:
One thing to note is that the funding raised so far this year suggests there may be some improvement in the proportion of funding going to female entrepreneurs. Last year, 8 percent of the funds raised (excluding capital raised by publicly listed companies) went to companies with female CEOs and/or co-founders. So far in 2022, that figure is close to 15 percent. Saint John-based Procedure Flow, headed by CEO Daniella DeGrace, and Fredericton-based Chinova Bioworks, headed by CEO Natasha Dhayagude, accounted for most of the funding by female founders.
Let's state the obvious: We're only in September and a lot could change between now and New Year's Eve. For some reason, the autumn has always been a busy time for fundraising in the region.
At this time three years ago, we were expecting a pretty weak year for funding. Then on Sept. 25, 2019, Verafin announced its monster funding round worth $515 million. It would be foolish to rule out any surprises for the fourth quarter of 2022.