More than $50 million has flowed into the Atlantic Canadian innovation sector in April, and we still have a week to go before the month ends.
We've been scrambling to keep up with all the investment news this month, which we think is unprecedented in the region. We've reported on seven multi-million-dollar rounds, and although some figures were withheld we believe the funding totalled more than $42 million.
On top of that, Carboncure Technologies was named a winner of the Carbon XPRIZE, bringing home a prize of US$7.5 million, or C$9.4 million. And for good measure, Zorbit's Math of St. John's exited, refilling the pocketbooks of several investors in Newfoundland and Labrador. These are the deals, with links to our reports on them:
| | | |
| --- | --- | --- |
| Company | Amount | Funders |
| Audiopics | $1.9M | Innovacorp, Carl Zeiss Meditec |
| Sentry | $2M+* | Factor[e], SKion Water |
| QRA | US$3M | Newfund, Innovacorp, BDC |
| Liferaft | $3M+* | Canadian Business Growth Fund |
| Milk Moovement | $4M | Dynamo Ventures, et al. |
| ReelData | $2.5M | S2G Ventures |
| Cape Privacy | US$20M | Evolution Equity Partners, et al. |
* Sentry and Liferaft did not release funding amounts. These numbers relfect our estimates based on available information.
What have we learned from all this funding? Here are a few takeways:
This is unseasonal
For some reason, most big funding deals over the years have happened in the fall. We're starting early this year. A lot of negotiations stopped last spring when the pandemic broke out and started again in late 2020, so we're getting a lot of funding announcements early in 2021. But we still have to wonder, if things are this busy in the spring, what will the autumn of 2021 look like?
To put the April funding in perspective, Atlantic Canadian startups last year raised just over $120 million, excluding stock market transactions.
The US-Atlantic Canada model seems to work
Some of the biggest funding rounds in the past few years have been closed by companies whose CEOs are in the U.S. with other operations (usually the development team) in Atlantic Canada. A few examples: ABK Biomedical, US$30 million in 2019; Introhive, US$15 million in 2018, Sonrai Security, rounds of US$18 million and US$20 million since 2018; and Resson US$11 million in 2018.
With the US$20 million round just announced by Cape Privacy, that's more than C$140 million in funding since the beginning of 2018. It's a model more companies should consider.
Money is flowing in from elsewhere
Here's my best estimate of where the money in this investment spree came from.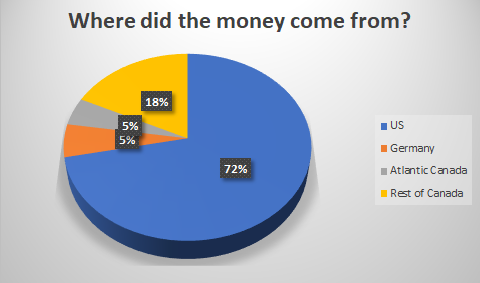 We estimate about 5 percent of the recent funding came from within Atlantic Canada, as Innovacorp contributed to two deals, and Halifax's Jevon MacDonald was a return investor in Cape Privacy. The investment activity this month is further evidence that the startup movement in Atlantic Canada is being funded mainly by capital from outside the region.
Even distribution
In 2019, we were concerned that so much of the capital was raised by just two companies, Verafin and ABK Biomedical. In April, we've had seven companies raise at least $1.9 million each. In the first quarter, Goodleaf raised $30 million from McCain Foods, and seven- or eight-figure rounds were reported by Outcast Foods, SomaDetect, BreatheSuite and Talem Health. There are a lot of companies building runway as we come out of the pandemic.