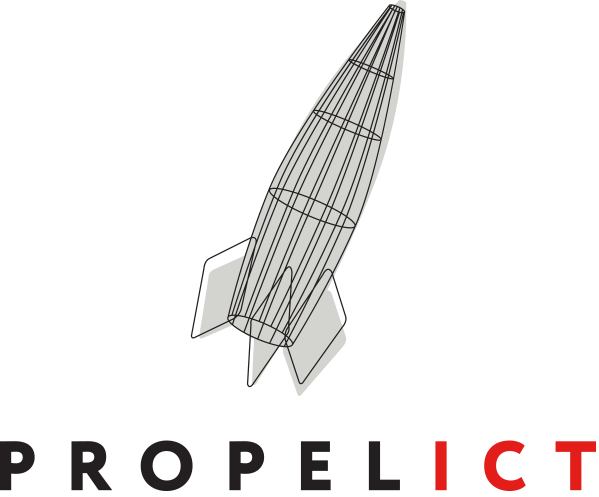 Propel ICT, the regional accelerator, has revealed the companies that will pitch at its demo day on Jan. 23 in Fredericton.
Eleven companies will definitely pitch at the event, which will feature a pub crawl to Fredericton craft breweries. Two others are eligible to pitch, though they may not be able to due to previous commitments.
Dubbed Pints and Pitches, the event is an opportunity to combine the traditional regional demo day with a tour of Fredericton's craft brewers. You can sign up to attend here.
The event will begin at Planet Hatch, where BrewHopper buses will take groups to four different craft breweries to listen to two or three different pitches, all while sipping on some of New Brunswick's top craft beer. After 20 minutes at one bar, you hop back on the bus and go to the next one until you make your way back to Planet Hatch.
Pints and Pitches had been set for last month, but had to be postponed because of weather concerns.
All the grads of the Propel Build cohort (for scaling companies) are eligible to pitch at Demo Day, and the more promising grads of the Launch cohort (for new companies) can present as well.
Here are the startups pitching, including Entrevestor articles on some of the companies:
Build Cohort:
Guild, Halifax
Headed by CEO Colin Gourlay, Guild has developed administrative software for the association management industry, and has already found clients in the space. Specifically, it targets professional colleges, which are the organizations that oversee the credentials and membership of licensed professions. The product automates the process of digitally registering and renewing memberships and collecting fees. It helps members to update their qualifications.
Guild Solutions Banks $500,000 in sales
SnapSuite, Toronto
SnapSuite has created an online dashboard that helps small and medium-sized businesses manage their processes. From a single platform, business owners can carry out such tasks as controlling inventory, dispatching instructions to workers or providing quotes to clients. The goal is to help SMEs eliminate the most time-consuming inefficiencies, increase productivity and view real-time reports.
SomaDetect, Fredericton
Founded by Bethany Deshpande and COO Nicholas Clermont, SomaDetect helps dairy farmers check the health of their herd quickly and precisely while testing the quality of their milk. Deshpande's patented technology sends a laser beam through the milk as each cow is milked, instantly recording the fat content and somatic cell count, both of which indicate the presence of the disease mastitis and the quality of the milk. The farmer has the data instantly for each cow twice a day. The company has won several competitions across the continent.
SomaDetect Winns US$1M at 43North
TripNinja, Halifax
Trip Ninja serves people who want to travel to several different cities in a single trip and don't care about the order in which they visit these locations. CEO Andres Collart's team has created a product that takes someone's travel dates plus the cities they want to visit and plots the trip to find the lowest-cost flights. The company is partnering with online and traditional travel agents to provide better service to multi-stop travelers.
TripNinja Lines Up Deals with Major Partners
Launch Cohort
CoLab Software, St. John's
Founded by Memorial University grads Jeremy Andrews, Adam Keating and Roy Brushett, CoLab is developing collaboration software for people working with 3D designs. Its product Gradient allows mechanical engineers, interior designers or others to work in different cities on 3D designs in real-time, rather than sending one another PDFs of two-dimensional images.
Hyperloop Success Leads to Creation of CoLab
Unicare, Miramichi, N.B.
Unicare Home Health Care Inc. provides home care services to several New Brunswick communities, and is now developing a digital product. It is owned and operated by Lisa Williams, who is a member of the New Brunswick Home Support Association. She has recently become involved with the Education and Training Committee for New Brunswick that worked to establish a standardized training curriculum for all home support caregivers.
SafeAlert, St. John's
Headed by CEO Kyle Goulding, SafeAlert is designing a mobile app that will help companies monitor the safety of employees who work alone in remote locations. The product can be installed within 24 hours of placing an order, is customizable, affordable and scalable.
Upfront Tickets, Halifax
UpFront plans to use blockchain in a ticket-management system for concerts. Co-Founders Conor Daly and Kyle Gardiner want to use blockchain to create an identity for each concertgoer, and the ticket would be added to a digital wallet attached to that identity. By working with concert ticket sellers, UpFront aims to get rid of ticket scalpers and make sure customers are not buying fraudulent tickets.
SeaSmart Technologies, Mahone Bay, N.S.
SeaSmart is developing hardware products that would allow lobster and crab fishermen to check their traps from the safety of dry land. These fishers often go through the time, expense and risk of going to sea to check their traps, only to find too little harvest to justify the trip. SeaSmart, headed by CEO Mark Lowe, would let them check the traps from home on a mobile device.
Passiv, Fredericton
Co-founded by Brendan Lee Young and Brendan Wood, Passiv aims to help retail investors do index investing with a brokerage account. Their accounts are consolidated into one easy-to-use dashboard, with automatic notifications when something needs your attention. Passiv works off of accounts in Questrade, the fastest-growing online brokerage in Canada.
Prooflo, Fredericton
Prooflo provides website designers with immediate, stress-free feedback on their designs. The company's website indicates it is planning a launch in 2018, and is now gathering names of users to test the product.
The following companies have been chosen to pitch, but may have conflicting engagements:
Zambara, St. John's (Launch Cohort)
Zambara, founded by Jason Trask, has developed a product that helps providers of group benefits to identify members who are under-insured and thereby increase sales to these customers. In the next year, Trask hopes to build on the product so Zambara will help families have an easier time claiming policies after someone with life insurance has died.
Zambara Targets Group Benefit Plans
Securicy, Sydney (Build Cohort)
Securicy, headed by serial entrepreneur Darren Gallop, is a software-as-a-service product that helps enterprises navigate the complex routes to make sure they are compliant with their clients' and partners' cybersecurity standards. This field is so complex that even tech entrepreneurs are often asked for material they've never heard of.
Securicy Ramping Up Paid Beta Tests
Disclosure: Propel ICT is a client of Entrevestor.