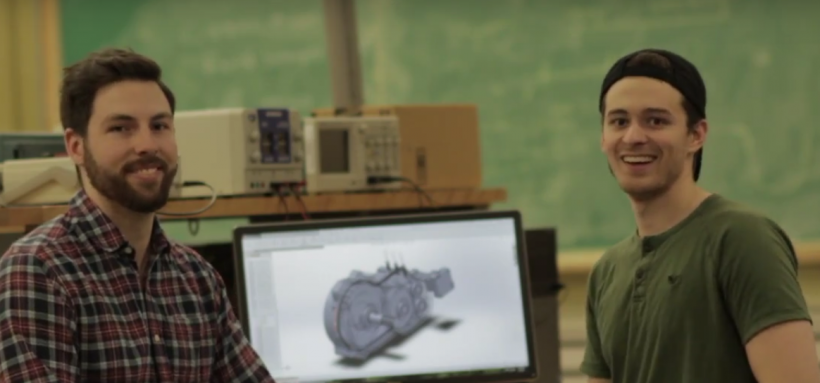 There's a lot of buzz in St. John's right now about a young company called CoLab Software, and a big reason is the story of how this startup started up.
Founded by Memorial University engineering grads Jeremy Andrews and Adam Keating, CoLab is developing collaboration software for people working with 3D designs. Its product Gradient allows mechanical engineers, interior designers or others to work in different cities on 3D designs in real-time, rather than sending one another PDFs of two-dimensional images.
Andrews and Keating got the idea for the product while competing in the SpaceX Hyperloop competition – an international contest to see which team of students could create the fastest ultra-high-speed ground vehicle. Their team, Paradigm Hyperloop, came second behind a German team at the 1,200-team competition in August. It gave them the idea and gumption to create CoLab.
"Before Hyperloop, I was a little bit nervous about what we could do," said Keating, CoLab's COO, in an interview in a St. John's coffee shop last week. "Doing well in the competition has given me the confidence to do ambitious projects like this company."
The team from Memorial competed in two SpaceX Hyperloop competitions, first in a team with five other universities, and then in the most recent event in partnership with students from Northeastern University in Boston.
In both cases, they encountered a big problem working on designs with teammates in other cities. It was a cumbersome process to capture designs in only two dimensions, distribute and discuss them, then go back to the 3D model to implement the changes the team had agreed on. They tried to find software that would allow them to work on 3D designs in real-time, but there was none.
Radient360 Closes $3.3M Round from Build, Killick
So after winning the silver medal in the international competition, they set up a company to solve this problem for all users of computer-assisted design, or CAD.
Gradient lets collaborators view a 3D design from any angle, create notes on issues and track them, and chat together over VoIP.
There are about 5 million CAD users in the world, and the number is growing all the time. The team is now trying to determine which is best niche to target as its initial market, and is leaning toward interior design and furniture manufacturing.
CoLab came into existence a few months ago, and the five-member team has already signed up two paying early adopters. It hopes to have five of these adopters to test Gradient as it builds out the full product. It is then looking at a full launch next year.
The company, which is now going through the Propel ICT cohort in St. John's, secured $10,000 by winning the Mel Woodward Cup, Memorial University's entrepreneurship competition in April. It has lined up $250,000 in non-dilutive financing and is working on an initial $125,000 round of equity financing. Once they build up a larger customer base, the duo hopes to go to work on a larger funding round.
"It's going to be a really interesting winter," said Andrews, the company's CEO. "In April or May, we hope to have about 20 paying customers and then we hope to raise a round of about $1 million."