Sponsored Content
There's one big lesson from the most recent analysis of our data from Newfoundland and Labrador.
Funding is important.
There's nothing startling in that statement, but as we look back on our data presentations from 2018, the highlight was the clear correlation between funding and company performance in Canada's most easterly province.
Our 2017 data shows that equity investment on the Rock has risen strongly over the past few years, peaking last year at $18.4 million. And that investment is helping generate real revenue growth. Startups in Newfoundland and Labrador had the highest revenue growth of any province in the region in 2017, and it's likely due to increased funding.
Each year, Entrevestor surveys startups across the region and produces an analysis on the state of the startup community and its ecosystem. In our most recent data in 2017, we had tremendous cooperation from founders in the St. John's area. Of the 46 startups we identified in the city, half completed the survey, and 18 provided revenue data. It allowed us to get a really clear picture of what's happening in our most easterly province.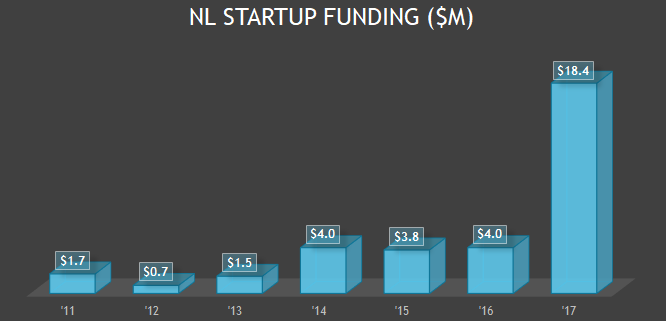 The big news is funding, which hovered just above the $3 million mark each year between 2014-2016 and spiked last year at $18.4 million. (Note: we don't include private equity funding in our tallies, so the $60 million PE funding of Verafin in 2014 does not show up in this chart.) The recent gains have been driven largely by the Venture NL Fund (managed by Pelorus Venture Capital) and Killick Capital both funding several companies, usually in tandem.
We believe funding in NL dropped in 2018, but companies are still reaping the rewards of recent funding.
The provincial government several years ago teamed up with BDC Capital and local angels to back Venture NL, and brought in experienced fund managers Pelorus Venture Capital to manage the fund. At about the same time, Killick Capital received the proceeds from two exits – from St. John's anti-fraud company Verafin, and from the sale of part of Killick's Texas-based aerospace operations. As a result, Killick and Pelorus have co-invested in several companies, including HeyOrca, Sequence Bio, Seaformatics and Empowered Homes.
But that is only part of the funding story. Having invested in St. John's-based film software company Celtx in 2016, Build Ventures of Halifax invested $3 million in Radient360 in 2017. Sequence Bio also brought in investors from outside the country in 2016 with its US$3 million round led by Silicon Valley venture capital firm Data Collective. And wireless energy company Solace Power has also brought in millions in external funding. Companies in Newfoundland and Labrador are now receiving bona fide follow-on rounds, which is fueling further growth.
The result: revenues are growing strongly. Our survey respondents' collective revenues increased 178 percent in 2017 over the previous year, with five startups reporting sales for the first time. One of the high-flyers HeyOrca said in November 2018 that its annual recurring revenue had hit $3 million, and its growth is continuing.
As I outlined in a recent talk at the Emera Innovation Exchange in St. John's, the other metrics among the 46 Newfoundland and Labrador startups are also impressive. Some 13 of the total were founded in 2017, including SucSeed and CoLab Software, so there is a strong inflow of new talent and ideas. We only flagged six zombies, or companies that appear to be languishing.
We said NL companies increased their staffing by one-third to 651, and that they hired more than 200 people in 2017. I now believe both those figures are low. After recent discussions in St. John's, I understand that Verafin has far higher staffing than I estimated, and the total employment for NL startups at the end of 2017 should have been closer to 800.
Meanwhile, the underlying ecosystem in St. John's has been strengthened in several ways. Genesis has expanded and is now in its new facility on the side of Signal Hill, increasing its capacity to nurture more companies. The Memorial Centre for Entrepreneurship has been going for a couple of years and is hitting its stride.
This has led to the launch of the Bounce Health Initiative. MCE Director Florian Villaumé explained that Bounce is a collaborative effort between MCE, Eastern Health, the MUN Faculty of Medicine and the Newfoundland and Labrador Association of Technical Industries, or NATI.
This article is sponsored by Killick Capital and the Newfoundland and Labrador Department of Tourism, Culture, Industry and Innovation.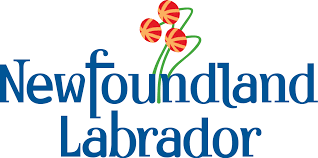 About the Department of Tourism, Culture, Industry and Innovation
The vision of the Department of Tourism, Culture, Industry and Innovation (TCII) is of a vibrant, diverse and sustainable economy, with productive, prosperous and culturally-rich communities and regions, making Newfoundland and Labrador a business and tourism "destination of choice". The Department is the lead for the economic, culture, and innovation agenda of the Provincial Government.

About Killick Capital
Killick Capital Inc. is a private equity investment firm headquartered in St. John's, Newfoundland and Labrador. Killick invests primarily in three target sectors known to have strong industry fundamentals—sectors we know and understand from experience: Venture businesses; Aerospace businesses; and Newfoundland and Labrador businesses.