Atlantic Canada's life sciences startups face a labour crunch possibly even more complex than the one gripping the information technology sector, but short-term training and upskilling programs could offer a partial solution, observers say.
Vivian Beer, manager of HR strategy for the PEI BioAlliance, and Chandra Kavanagh, director of Bounce Health Innovation, said in interviews that the biotech and medtech companies they work with not only face a shortage of qualified workers in the sciences, but also must compete with employers from an array of other sectors for staff with expertise in business and in software engineering.
"There's just endless opportunities for these folks," said Kavanagh. "There's basically negative unemployment. But it's not all doom and gloom. It also means that these technically skilled individuals can demand a very livable wage, which is a benefit to those people and in some ways of benefit to the economy."
A December report from BioTalent Canada estimated that Atlantic Canada will need another 3,300 biotech workers by 2029. But "there will not be enough talent supply to meet labour demands, with significant pressure now and mounting throughout the decade." BioTalent said the current labour supply falls about 75 percent short of expected demand growth.
Kavanagh said clients of Bounce, a Newfoundland and Labrador-based startup support organization focused on medtech, face an escalating shortage of scientific talent and increasingly high turnover as medtech companies poach staff from each other. The problem is compounded by high rates of burnout among healthcare workers, with whom medtech startups tend to work closely.
"When you have trouble finding (medical) expertise, that means that often everything gets delayed," she said. "So clinical trials, new technologies being created, implemented, adopted, all of those things are delayed when there's a lack of talent."
Life sciences startups also lean heavily on management and business development staff to translate scientific innovation into revenue, and those workers are being courted by prospective employers in an array of other industries.
Potential answers to the labour shortage, Kavanagh added, include immigration and better retention of international students. In the short term, she said one of her favoured solutions is short upskilling or professional training programs that can be completed in weeks or months, instead of years for a post-secondary degree.
The Canadian Alliance for Skills and Training in Life Sciences, a partnership between industry, government and academia of which the PEI BioAlliance is a part, runs a slate of national training programs for life sciences workers. Bounce itself offers a six-workshop Health Innovation Certificate for life sciences executives that covers topics like intellectual property and regulatory compliance.
But ultimately, Kavanagh said, post-secondary institutions must "catch up" to the demands of the labour market before the structural issues behind the worker shortage can be resolved.
The PEI BioAlliance's Beer echoed Kavanagh's recommendation for training programs, adding they can also be a tool to increase retention of international workers and students by helping them gain a foothold in the Canadian labour market.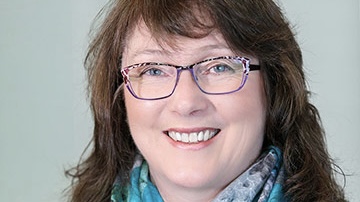 PEI BioAlliance Manager of HR Strategy Vivian Beer
Many well-educated immigrants nonetheless struggle to land jobs locally because they lack Canadian work experience or specific knowledge not needed elsewhere in the world, Beers said. But certification and professional training programs can help make such workers more appealing to employers.
"Our re-skilling program has a fairly large percentage (of participants) that are newcomers to Canada because often they just need that 12 weeks to kind of bridge that gap," said Beer. "That's often the biggest challenge for newcomers -- they have really good qualifications, but maybe they're not perfectly matched to the local opportunities.
"So they need maybe a little bit of bridging to help them move in and feel comfortable in those roles."
Beer added that PEI's life sciences sector has felt the impact of the labour shortage less acutely than industry clusters, in part because the BioAlliance foresaw a tightening labour market some years ago and began to address it in its human resources strategy documents, which it releases every five years. The documents offer policy prescriptions and advice to industry players.
The latest HR strategy, slated to be released at the end of this month, will include a push to promote the life sciences to high school and post-secondary students who are choosing career paths. It will also push for scaled-up program offerings at universities and advice for companies in the sector to more aggressively cultivate young talent, including students.
"The big message is, we can't take labour for granted anymore," said Beer. "Companies really need to focus on hiring and building up more students.
"I think sometimes companies, when they want talent, they just want to be able to grab it off the shelf. But they have to take the long view and actually build talent along the way."