Led by an off-the-charts performance in New Brunswick, Atlantic Canada recorded $158 million in venture capital investment in 2018, accounting for its biggest ever proportion of Canada's VC funding.
The Canadian Venture Capital and Private Equity Association, known as the CVCA, released its annual data on Wednesday, which showed that VC funding in Atlantic Canada rose by 60 percent from $99 million in 2017, and shattered the previous record of $103 million in 2016. The four eastern provinces accounted for 4.3 percent of Canada's VC funding last year, beating the previous high of 3.2 percent in 2016.
The star of the funding report was New Brunswick, which recorded $78 million in funding – more than it booked in the previous four years combined. That said, there were also record funding amounts in Newfoundland and Labrador and Prince Edward Island.
For the country overall, Toronto-based CVCA said Canadian startups raised $3.7 billion in venture capital in 2018, down 2 percent from the previous year. Almost 83 percent of the VC funding last year was invested in the three main markets of Ontario, British Columbia and Quebec, which always account for the lion's share of the country's innovation funding.
"We are seeing more VC flowing into more Canadian companies at all stages, which is an important metric for the health of the sector," said CVCA Chief Executive Kim Furlong in a statement. "A healthy mix of new growth funds, increased interest from international investors and government support through VCCI [the federal government's Venture Capital Catalyst Initiative] is helping to fuel the momentum."
Though Atlantic Canada still represents a small portion of the overall VC funding in the country, the growth of VC funding in the region has far outpaced the rest of Canada in recent years. For example, the CVCA website has five years of data and it shows that Atlantic Canada's VC investment has more than quintupled since 2014, when it accounted for 1.4 percent of the national total.
Atlantic Canada in 2018 recorded a total of 64 VC investments, or 10.5 percent of the national total. The region customarily books about one-tenth of the country's VC deals, most of them small pre-seed rounds.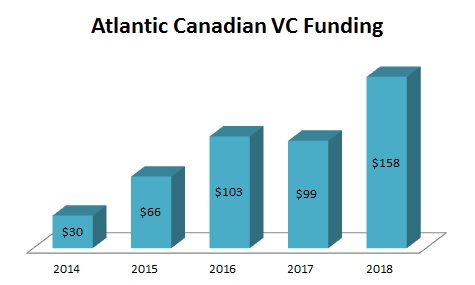 Here is a breakdown of the data for each Atlantic Canadian province:
New Brunswick
According to the CVCA, New Brunswick's VC investment surged 387 percent last year – though it was from a weak year in 2017. Most of the funding came in three deals: Cybersecurity company Sonrai Security raised US$18.5 million (C$24.6 million); relationship intelligence company Introhive raised US$15.2 million in an equity-and-debt round; and AgTech data company Resson raised $14 million. But New Brunswick (as usual) was active in smaller deals, booking a total of 28 deals, the most in the region. The CVCA ranked the New Brunswick Innovation Fund as its second most active "government fund" (Technically, it's a non-profit that gets provincial funding.) with 22 deals, outranked only by the federal government's BDC Capital.
Nova Scotia
The region's most populous province booked 19 deals worth $67 million. It wasn't a record, but it was still within a band of $64 million to $77 million from the past three years. In 2014, the figure was $18 million. Not all of the Nova Scotian deals have been announced publicly, and it's possible the largest single deal was not announced. Innovacorp, the provincial government's VC agency, closed 12 deals, ranking sixth among the government funds. The average deal size is now $3.5 million (compared with $1 million in 2014), indicating most of the investment is going into scaling companies.
Newfoundland and Labrador
With Killick Capital and Pelorus Venture Capital active, Newfoundland and Labrador startups received $8 million in 11 deals – both numbers are records. The biggest total VC funding before that was $7 million in 2016. Most of the funding in 2018 was for early-stage companies, as the average investment was less that $1 million.
Prince Edward Island
The effects of the new Island Capital Partners fund are becoming apparent as P.E.I. booked $5 million in six deals. It was the first time the total for P.E.I. surpassed $4 million, or the Island booked more than two deals.