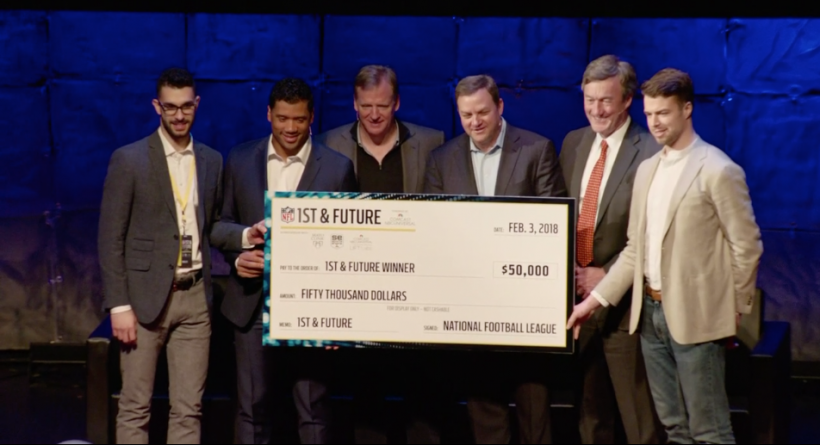 Shea Balish did at Super Bowl LII what Tom Brady couldn't: he came away with a win.
Balish, who cut his entrepreneurial teeth at LaunchDal and Propel ICT, is now the Co-Founder and CEO of Toronto-based Curv, which uses artificial intelligence to help athletes improve performance and avoid injury.
Last weekend, the company was in Minneapolis to participate in a pitching event hosted by the National Football League in conjunction with the Super Bowl. Curv walked away with the US$50,000 first prize.
"To be brutally honest, the money was nice," said Balish in an interview Wednesday. "But what's great is the validation of the app and the connections we now have with the NFL and its network. I spent Monday morning on the phone with two NFL superstars — well respected athletes who have the ears of people around the league."
Balish played basketball and received a PhD in social psychology at Dalhousie, and went through the university's entrepreneurship program to turn his research into a digital product. Now a Banting Fellow at University of Toronto, he heads a young company that is using computer vision and "deep learning" to help athletes improve their movement.
Formerly known as Rep-AI, Curv has developed software that helps an athlete, trainer or coach to use a common mobile device to analyze how an athlete moves and suggest improvements. The team started with the notion that sports experts can gain a wealth of insights — such as predicting injuries or finding weaknesses in skills — from an athlete's movement, but such insights are usually brought out only by costly consultants.
Read about other recent entries into the Techstars accelerator:
As It Joins Techstars, Securicy Launches its Product.
Techstars Is a Key to Blockcrushr's Expansion
Curv's consumer product allows users to video their motion (whether it's walking, exercising or performing a drill) and carry out a digital analysis of how they move. The software uses deep learning — a subset of machine learning — to analyze the motion, identify problems and suggest improvements.
Balish initially learned entrepreneurship in Halifax with such groups as LaunchDal and the regional accelerator Propel ICT, then took it to Toronto. There he was accepted into the Creative Destruction Lab's artificial intelligence program, and NextAI, part of the Next Canada suite of academic-entrepreneurial programs. And last year Curv was accepted into the prestigious Techstars accelerator, which brings with it almost US$120,000 in funding.
On Wednesday, he was flying to St. Louis to pitch to Stadia Ventures, one of the leading sports accelerators in the U.S.
Curv's most recent gambit was to enter the third annual NFL 1st and Future event, a pitching competition for startups whose products could help professional football players, as well as other athletes.
Curv was the only Canadian team among the nine competitors in the competition, which the NFL hosted in conjunction with Comcast NBCUniversal and the Mayo Clinic.
Balish pitched on Saturday and claimed the first prize — US$50,000 in development funds, and two tickets to the Super Bowl.
Curv, whose five-member team includes Halifax-based R&D expert Jason Hopper, is now in the middle of raising a round of equity, so the timing of the NFL award was great.
And it didn't hurt that Balish and a partner got to see one of the best Super Bowls ever.
"We debated whether to sell the tickets and give the proceeds to the company," he said. "But we went and what a game."