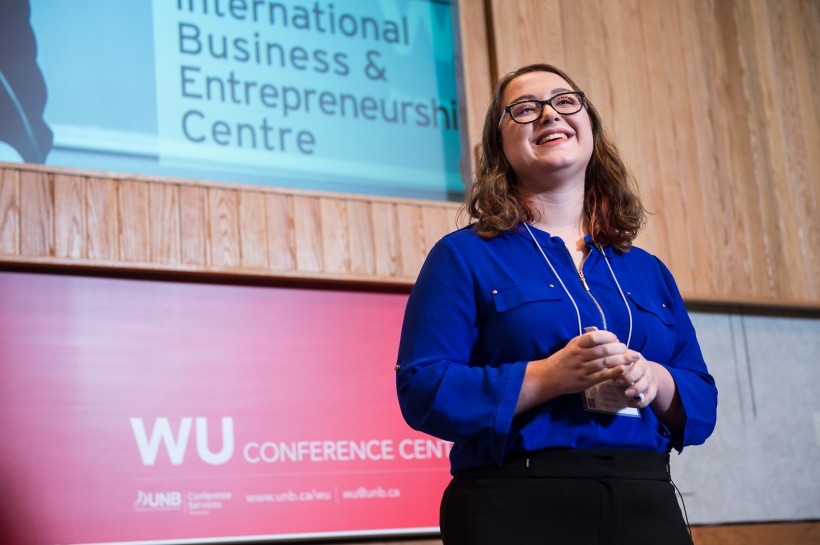 A University of New Brunswick student has been recognized for her smartphone app that allows people with food allergies to find safe places to eat.
Holly Ayles, a third-year UNB business administration student from Fredericton, captured first place in the ideas category of the 12th annual RBC Student Pitch Competition hosted by UNB's Technology Management & Entrepreneurship program.
She came up with the idea for her Have Food app after a frightening personal experience. Two years ago, at the age of 19, Ayles had an anaphylactic reaction from eating tree nuts during dinner in a restaurant. It was the first time she learned she had any allergies.
A keen traveller, it became hard for Ayles to find places to eat.
"It's really difficult to find a safe place to eat when you aren't familiar with the restaurants or their allergy policies," she said. "You end up calling or visiting dozens of restaurants just to find one place at which you can eat. It's tiring."
Her solution is a universal app that would allow users to select their dietary restrictions and then be provided with safe restaurants in major cities and tourist destinations across Canada.
Ayles first presented her idea in the fall at another pitch competition, placing third. She then refined the idea.
"So many people reached out to me to say that this would benefit them or someone they know – it inspired me to keep moving forward with this idea," she said.
Potential Motors Converts Cars to Electric Power
Ayles doesn't have a concrete timeline for full development of the app but will be taking courses through UNB's Technology Management & Entrepreneurship program to further her knowledge of entrepreneurship and further refine her idea.
At the RBC competition late last month, students competed in both the ideas and growth categories with cash prizes of $1000, $750 and $500 being given to first-, second-, and third-place winners and smaller cash prizes for teams that earned honorable mentions.
In the ideas category, OnTrack Coding and BrainWave took second and third place, respectively. The communication award was given to Fruit and Vegetable Vending Machine, the innovation award went to GeoDetect and Box of Babylon received the impact award.
In the growth category, first place went to Potential Motors, second place to Pi Security and third to Adventure Pack.
Farmers Online received the social innovation award and Bar PSIence was given the award for technical innovation.
Awards were given to individuals that have helped others or shown achievement in their field. David Coleman, a professor with TME, received an award for leadership in education and Curtis Kennedy was given the student leadership award.
Adam Harris, managing director of Fredericton's C-Therm, was given the award for entrepreneur of the year.