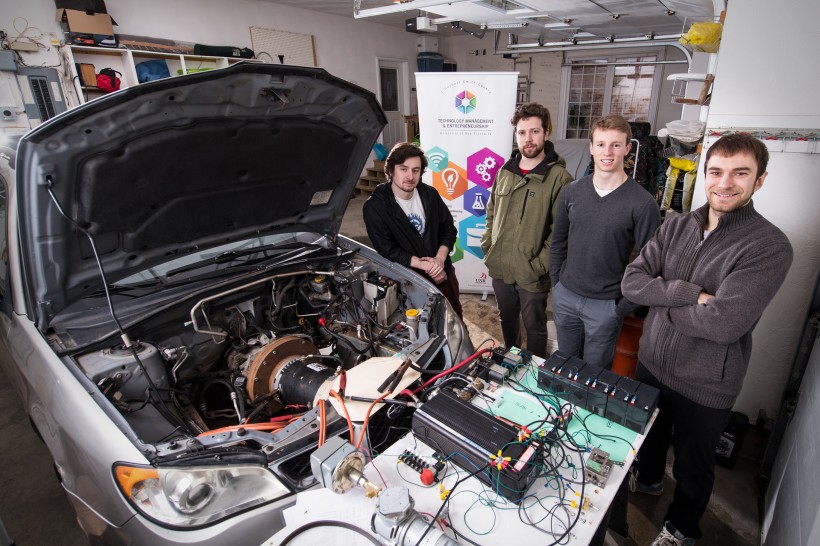 A team of New Brunswick students on April 5 will showcase a simple process to convert gas-guzzling vehicles to electric power -- a process that is the basis for their new startup.
The engineering students at University of New Brunswick will park a demo car at the front entrance of the Fredericton Convention Centre as part of the fourth annual UNB Engineering Design Symposium.
The one-day event allows final-year UNB engineering students to showcase hundreds of designs and prototypes to the community.
"We want to share the experience of what it's like to be in an electric vehicle," Michael Barnhill, one of the students behind the conversion technology, said in a release.
The four final-year engineering students – Barnhill, Nick Dowling, Isaac Barkhouse and Samuel Poirier – are planning to commercialize their work through their new startup, Potential Motors.
They see potential and a big market for their work, especially in Europe.
UNB's Vertiball Wins $15,000 at CBMC
"There are laws coming into play over the next 10 years to ban internal combustion engine vehicles," Dowling said. "In Germany, they just passed regulations that allow cities to ban diesel and high-emitting vehicles. That affects 13 million vehicles in Germany right now.
"We don't think that it's environmentally or economically savvy to send these vehicles to the scrapyard. We want to convert them, but we want to start in New Brunswick first."
The retrofit essentially replaces the fossil fuel-powered engine with three new components made up of modules – a motor, batteries and an electronic control unit. The motor is a universal electric motor system, specifically designed to replace the regular motor.
The system is built in a modular style to allow components to be added or taken away to make the car faster or slower; to give it more or less range; or allow it to charge faster.
The students, who developed the technology for their senior engineering design class, say they can convert a vehicle in a fraction of the time and cost of other conversion kits. They say they can convert a vehicle in under a day for an affordable price.
They are looking at the commercial vehicle market first and are receiving startup mentoring through UNB's Technology Management & Entrepreneurship program, which allows students to create, design and launch their own businesses.
The public is invited to attend the free symposium, which will run from 8:30 a.m. to 5 p.m. at the convention centre.