Bedford, N.S.-based Ashored Innovations has raised US$1 million (C$1.36 million) from the Californian Builders Vision impact fund as part of a larger seed round.
The funding comes as Ashored, which sells fishing gear designed to reduce accidental harm to marine life, eyes scaling up its production and business development activities to learn more about how its technology performs in real-world conditions.
Chief Executive Aaron Stevenson said in an interview that fisheries regulators in both Canada and the United States have declared their intent to tighten rules around making commercial fishing gear more environmentally friendly, which is likely to benefit Ashored.
"We've been doing a lot of testing this year, and we've had a lot of learnings," said Stevenson. "We've been able to get very timely feedback from each of our partners and get the learnings incorporated into the final designs, and we are now in the process of preparing to scale up our manufacturing."
For fishing that involves traps, the equipment is traditionally retrieved via ropes connected to the gear at one end and a floatation device at the other end on the surface of the ocean. But sea-life including sea turtles, seals, porpoises and whales often become tangled in the ropes. Canada's Ocean Supercluster has previously said in a press release that about 85 percent of deaths in the North American Right Whale population — which is critically endangered — are caused by entanglements with trap lines.
Ashored has developed a system whereby the rope remains coiled around a device attached to the trap until it needs to be retrieved, at which point it will uncoil and float to the surface with the help of a buoy. The company also sells a software system for tracking the location of fishing gear, which is frequently lost due to strong currents.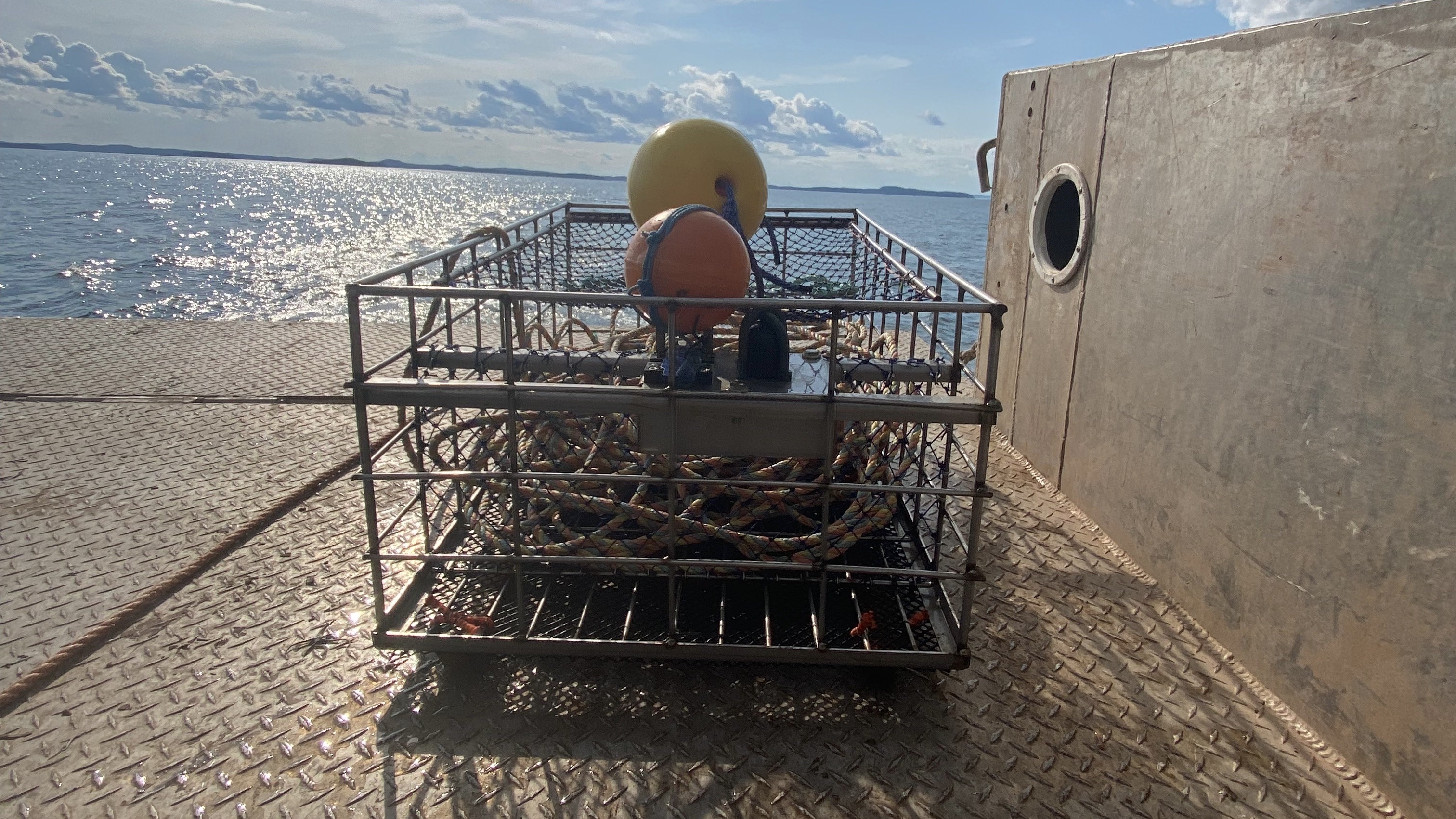 An Ashored trap system.
Stevenson said public pressure on the fishing industry and government to shift to more sustainable practices looks set to produce policy decisions favourable to Ashored.
Fisheries and Oceans Canada announced last year that it would create a Ghost Gear Fund to finance efforts to clean up lost or abandoned fishing gear.
Internationally, the Global Ghost Gear Initiative is a consortium of government, NGO and private sector organizations dedicated to reducing the problem.
And an Organisation for Economic Co-operation and Development paper in 2021 argued that a new international regime to manage ghost gear should be organized.
Ashored has now deployed 100 of its systems in Canada and the U.S., and generated $650,000 in revenue this year.
It was also part of a $1.4 million Ocean Supercluster consortium to develop whale-safe lobster traps, such as those it now sells.
Stevenson described the $650,000 as "pre-commercial revenue," with the company's first commercial revenue probably coming in 2023.
His team outsources metal and steelwork to a contractor in Debert, N.S., but manufacturing otherwise happens in-house.
Most of the money raised in the seed round will go towards scaling Ashored's team and production capacity, with some for runway.
Stevenson described the deal as having been a result of Ashored's participation in Dalhousie University's Creative Destruction Lab Oceans accelerator earlier this year.
So far, the company has 12 full-time employees and four part-time, with a handful of job postings on the production, business development and software teams slated for the coming weeks.
"With statewide closures, large seafood retailers and distributors setting clear policy against lobster, and oversight organizations raising concerns about whale entanglements, solutions that get fisheries back in operation are essential," said Builders Vision's James Lindsay.
"The seafood industry is modernizing, and we need more new technologies like Ashored's ropeless system if we want a dependable seafood supply chain."