The East Coast startup community experienced slower growth in 2022 than in the previous years, though a core of leading companies continued to thrive — that's the conclusion of Entrevestor's 2022 Atlantic Canadian Startup Data Report, released today.
Over the past nine years, our annual report has become the benchmark source of data for the Atlantic Canadian innovation community, with policymakers and investors referring to our work. Every winter, we survey startups in the region about metrics ranging from their fundraising numbers, to revenue growth, to diversity, equity and inclusion. This report is the result of that effort. You can sign up to receive a copy here.
For 2022, we found that the total number of companies increased 4.7 percent (the slowest growth rate we've witnessed) to 807 firms at the end of 2022. We also witnessed a slowdown in job growth and revenue growth. Direct employment by startups increased about 7 percent to just over 9,400 jobs.
Though the growth rate was low, the total employment figure is the highest number we've ever seen. The weighted-average revenue growth slowed to 42.3 percent, a decline from the 2021 figure of 54 percent. In the five years before the pandemic, revenue growth was almost always above 70 percent.
While growth slowed, we were struck while researching this report, by the strength of the region's best companies, especially the 51 of Atlantic Canada's most successful startups we label "elite" and the 28 "scaling" companies following close on their heels. The elite companies raised more than $200 million in equity financing, while the scaling companies that shared revenue data with us experienced sales growth of about 250 percent. Amid the increasingly challenging environment, many Atlantic Canadian founders are honing their operations and improving their prospects.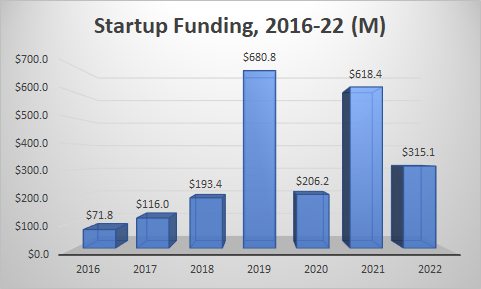 Led by a strong showing in Nova Scotia, innovation-driven companies in Atlantic Canada raised a total of $315.1 million in equity capital – the third-highest year for fundraising since we began researching the sector. More than two-thirds of the funding came from venture capital funds, with life sciences companies attracting $109.6 million. Angel investors sank $23.2 million into the region's startups, in line with angel funding levels in recent years.
There were 115 new companies in 2022, which is in keeping with the customary band of about 105 to 125 new companies. We're quite excited by the quality of some companies, such as Tunistrong of Charlottetown and Profitual of Fredericton. One year after we warned about the lack of new companies on P.E.I., the Island produced 14 new companies in 2022, amounting to 19 percent of its total community.
Sixty-three companies failed, two of which had raised capital that we know of. Despite slower growth in the ecosystem, it was the first time in three years that the number of failures has fallen below 100. We also designated 95 companies as zombies, meaning we know of no progress they've made in two or more years.
We reported on six exits in 2022, the most notable of which was St. John's-based film software company Celtx. There were two corporate transactions, the largest of which was Meta Materials' purchase of the IP of California company Optodot for US$45.8 million.
Oceantech, the fastest-growing sector, is showing huge progress in Atlantic Canada. Excluding the sale of shares by publicly listed companies, oceantech startups in the region raised $2.1 million in 2020. That figure swelled to $63.7 million in 2022, led by substantial rounds from Mara Renewables and ReelData. The Atlantic Canadian oceantech ecosystem is also benefiting from the development of a truly national ecosystem, enhancing the opportunities available to ocean-focused entrepreneurs.
The region is developing a growing hub in medical technology, which was highlighted in 2022 by ABK Biomedical raising US$30 million. The medtech group comprises 79 companies, about one-third of them with female founders or CEOs. Atlantic Canadian medtech companies raised $65.9 million in 2022.
And finally, for our prior report, we began collecting data on diversity, equity and inclusion. The 2022 report, however, has shown recent progress to be modest.
The rise in participation by Black founders or CEOs is up from 1.2 percent of companies to 1.4 percent, and for Indigenous founders it has risen from 1.6 percent to 2 percent. From a statistical perspective, those changes are too slight to reflect a meaningful improvement.
But there has been genuine progress among women and immigrant founders. Some 22.4 percent of companies have female founders, up from 19 percent, and they raised $35.8 million in private capital. In New Brunswick, female-led companies raised $17.6 million, about 40 percent of the total funding for the province. And immigrant-led companies accounted for 25.9 percent of the total community, up from 19.6 percent a year earlier. Some 31 percent of the companies in Newfoundland and Labrador have immigrant CEOs or founders.