Atlantic Canadian startups are on track to raise more than $100 million in equity financing this year now that the Canadian Venture Capital and Private Equity Association said the region attracted $79 million in venture capital in the first three quarters.
The Association, which is known as the CVCA, released its third-quarter statistics on Thursday, and they show a huge leap in funding in Nova Scotia over the first-half figures.
While Atlantic Canadian startups raised an impressive $38 million in the third-quarter, the Canadian numbers overall between July and September were disappointing. The CVCA said $891 million was invested over 126 deals, which is down about 47 percent from the second quarter.
"The strength of Q2 was in many ways a combination of [general partners] further capitalizing their portfolio and the added capital injections of BDC and EDC matching programs," said CVCA Chief Executive Kim Furlong in a statement. "Q3, however, is more aligned with the challenges the pandemic has created for deal flow. While our members are finding ways to deploy capital, the realities of COVID and the continued strength of valuations is apparent in the deal flow."
Atlantic Canadian VC Investment, 2020
1H 2020 Q3 2020 YTD 2020
Deals Value Deals Value Deals Value
NS 6 $27M 5 $36M 11 $63M
NB 7 $5M 4 $2M 11 $7M
NL 5 $3M 0 0 5 $3M
PEI 1 $6M 0 0 1 $6M
Total 19 $41 9 $38M 28 $79M
Sourcce: CVCA
What leaps out in this chart is the strong funding in Nova Scotia in the third quarter, which accounts for almost half the VC capital raised in the region in the first three quarters. The deal that dominated third-quarter funding was obviously Dartmouth-based CarbonCure Technologies' round in September led by Amazon and Breakthrough Energy Ventures. The company did not reveal the size of that round, but the CVCA data suggests it was worth C$30 million or more.
The CVCA data indicates Atlantic Canada is poised to exceed $100 million in total equity funding this year, for the fourth year in a row. Already in the fourth quarter, Sonrai Security of Fredericton has announced a US$20 million (C$26.4 million) venture capital round, which will push the figures over $100 million.
VC funding in Atlantic Canada is obviously going to drop this year from 2019, because last year there was the record $515 million equity-and-debt deal booked by St. John's-based Verafin. But this chart shows that as recently as 2016 it was common for the region to attract less than $80 million a year in funding.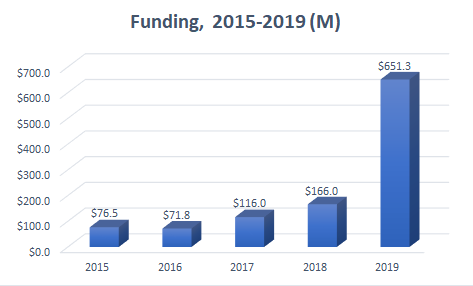 Source: Entrevestor Databank
There are other VC rounds that haven't shown up in the CVCA figures yet, such as the $8 million round announced by St. John's-based Mysa Smart Thermostat.
The CVCA data only captures venture capital funding, so it does not include large angel deals, like the $3.2 million raised by Oliver POS of St. John's this summer. What's more, there has been more and more funding generated by publicly listed companies in the region, which doesn't show up in the VC data. Publicly listed innovation-driven companies have raised more than $70 million this year, with a further $13 million expected when Metamaterial of Dartmouth joins the Nasdaq early next year.