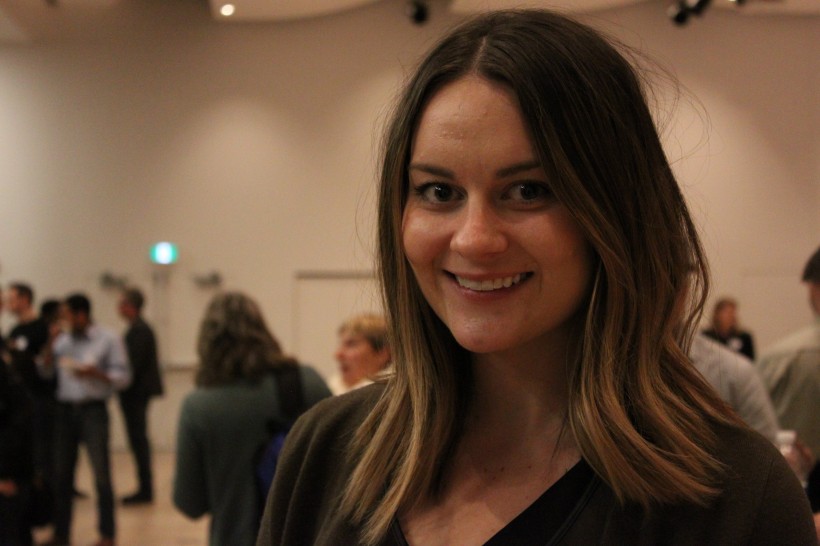 SkySquirrel Technologies, the Bedford, N.S. company that uses aerial imaging to improve vineyard productivity, has raised $3 million and merged with its Northern California research partner VineView Scientific Aerial Imaging.
The new company will be known as VineView and will change its business model so it uses high-altitude images taken from airplanes to map entire grape-growing districts. Previously, the company used drones to capture images of individual farms. What's more, the combined company will own all the intellectual property, or IP, associated with its business.
Emily Ennett, SkySquirrel's Director of Marketing and Business Development, announced the transaction at Startup Halifax's showcase of tech companies at the Halifax Central Library on Wednesday night.
"We realized that we're not that great at building drones, but what we are good at is providing grape-growers with extremely high-quality data," said Ennett. "What we are good at is detecting grape vine diseases that nobody has figured out how to do and what we are good at is developing data products that grape growers are really excited about."
SkySquirrel began as a drone company in 2012 and three years ago decided to focus its efforts on providing data and imaging services to the wine industry, which is worth $20 billion annually in Europe alone. Early in its development, the company struck a partnership with St. Helena, Calif.-based Vineview, which owned invaluable IP used to collect data on vineyards.
For the past year, the companies have been in talks about merging, and SkySquirrel carried out the deal by raising $3 million in capital -- $1 million from Innovacorp and $2 million from an unnamed private investor.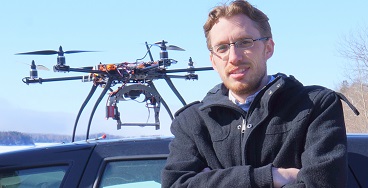 Richard van der Put in the early days of SkySquirrel
In an interview after the announcement, SkySquirrel CEO Richard van der Put said the new funds will be used in part to finance the merger. VineView co-founders Matthew and Melissa Staid will receive a mixture of cash and equity in the new company to carry out the merger. Van der Put said there will be some capital left over to use as working capital. He is now talking to other potential investors and hopes to announce a follow-up funding round in a few months.
The merged company will be headquartered in Halifax with offices in Napa Valley and Toulouse, France, two of the world's biggest wine markets.
Van der Put will remain as CEO, and Matthew Staid will serve as the company's Chief Scientific Officer.
"This has been a very important deal for us," said van der Put. "We now have access to all the IP that we were licensing from VineView before. And they have a very important client base in the Napa and Sonoma areas."
The Halifax company, which now employs 21 people, also gains important staff in the Staids. As well as being an expert in agricultural imaging, Matthew Staid conducts research with NASA, where he has worked on the Moon Minerology Mapper.
"After working in partnership with Richard and his team for the past few years, we are excited to officially join forces with SkySquirrel and combine our two companies," said Matthew Staid in a press release. "Together we will be able to scale globally and offer our customers enhanced data solutions."
Van der Put said the company's new strategy came about last summer when VineView developed imaging technology that could map large areas from planes with the same resolution that it formerly got in a single field from a drone. It means that VineView can now map a wine-growing region like the Napa Valley once a week and get all the data needed for all the vineyards in the region.
Said Ennett: "We are very eager for the new harvest season to take place and for the new VineView to take Flight."
With reporting by Jennifer Lee.