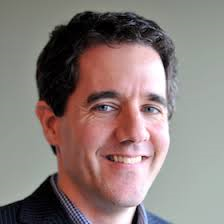 Marcel LeBrun, the driving force behind one of Atlantic Canada's most successful startups, Radian6, has joined Montreal-based Real Ventures as a Venture Partner.
Real Ventures announced the hiring of LeBrun – who it describes as "arguably one of Canada's most successful entrepreneurs" – in a statement released this morning. While maintaining his base in Fredericton, LeBrun will help the organization with deal flow and the mentoring of portfolio companies.
"The addition of Marcel to our team aligns with our mission to serve world-changing entrepreneurs," said Real founding partner JS Cournoyer in a statement. "He is an amazing human being and successful entrepreneur who took a company public, built one of the most successful SaaS companies in Canada and then built and ran one of Salesforce's fastest growing divisions."
LeBrun is best known as the former CEO of Radian6, which was purchased in 2011 for $326 million by Salesforce.com; at the time, it was the San Francisco tech giant's largest acquisition. Before Radian6, he headed iMagicTV, which gained a public listing before being bought by Alcatel-Lucent.
Real Ventures is one of Canada's leading early-stage venture capital funds, having invested in more than 100 Canadian companies and gaining special expertise in artificial intelligence. Last November, the firm raised its fourth fund, worth $180 million, with the support of such international heavy hitters as Tencent Holdings of China and the Singapore sovereign wealth fund Temasek Holdings.
Innovacorp Names Andrew Ray VP of Investment
Though the fund has not been terribly active in Atlantic Canada, it backed Moncton entrepreneur Dan Martell's Clarity, which was later sold to Fundable. Real Ventures is the driving force behind the accelerator Founderfuel, whose alumni include such Atlantic Canadian companies as Vish Salon Tech of St. John's and Porpoise of Moncton.
"I'm really excited to bring a presence from Real Ventures to Atlantic Canada," said LeBrun, adding that he hopes it will create opportunities for East Coast startups.
He said in an interview he joined Real after meeting Cournoyer and the rest of the team and understanding their aspirations for the firm.
"I ended up really liking them and the vision of what they're doing," said LeBrun. "To my mind, they're becoming the No. 1 seed stage investment group in Canada and I really like some of the investments they've got."
He will continue to be based in Fredericton, where he helps with the Technology, Management and Entrepreneurship program at University of New Brunswick. He and his wife Sheila will also continue with their foundation, whose many endeavors include helping at-risk youth in New Brunswick.
At Real Ventures, LeBrun will have a dual role. He will help Real portfolio companies across the country break out of their "startup" phase and build global client bases. And he will help with deal flow, identifying companies for investment.
Said Cournoyer: "He has the experience and mindset to guide mission-driven entrepreneurs on their journey to success and we are grateful to have him on board."