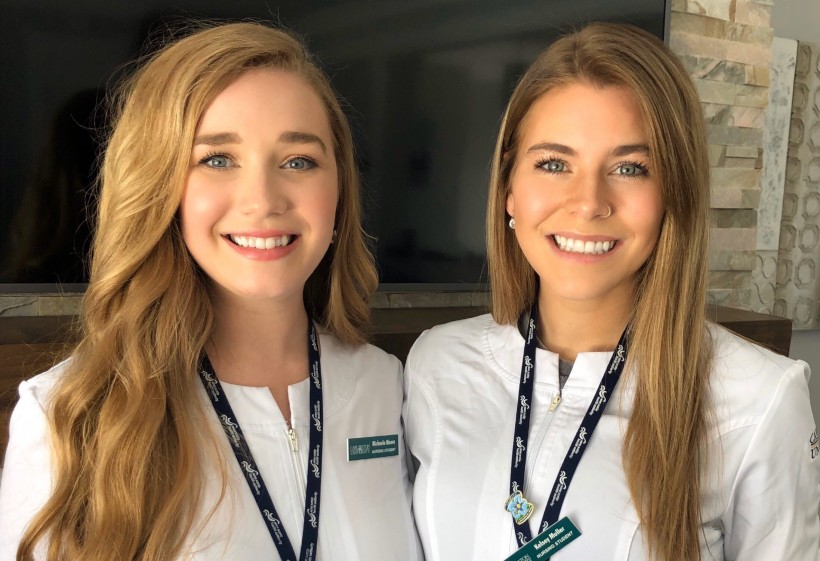 Two Cape Breton University nursing students have placed first in the Canadian division of the Techstars Startup Weekend.
Held via video-conference on April 24 and dubbed "Unite to Fight COVID-19," the competition saw aspiring entrepreneurs divide into teams to cultivate their business ideas over 52 hours.
Michaela Moore and Kelsey Muller worked with five other participants on their plans for Rest Assured—a web app that they hope will automate parts of the communication process between nurses and families.
"We know how hard nurses work to make sure there is communication put in place, because that's such an important part of their job," said Muller in an interview. "But sometimes that gets difficult, and that can be a pain point."
Moore and Muller were encouraged to attend the Startup Weekend—which Colorado-based accelerator Techstars purchased in 2015—by University of Cape Breton faculty members Darren MacDonald and Corrine McIsaac. McIsaac teaches an entrepreneurship course for upper-year nursing students and MacDonald volunteers as a mentor for Startup Weekend entrepreneurs.
"I said 'Why don't you go and explore? Because you're going to have a hard time finding designers and developers right now, with the (COVID-19) crisis,'" said MacDonald. "'Go there with the intent to learn as much as you can about the process and network, and maybe you'll be able to build a team out of it.' And sure enough, they have."
The event began with competitors who already had business ideas, including Moore and Muller, pitching their concepts to the rest of the attendees. They ultimately collaborated with five other people, including two software developers, to solidify their idea and prepare a video presentation that earned them a place in the final, live round of pitches.
Five Winners Split $125K at Volta Cohort Pitching Event
Their first-place finish secured them a spot on the roster for the Global Startup Weekend, which was held this past weekend. Five winners from that event were to attend the three-day Techstars Innovation Bootcamp.
Moore and Muller said they have not incorporated the business yet because doing so would disqualify them from participating in the global competition, but their Canadian win earned them free incorporation assistance that they plan to use soon.
Their intention is for Rest Assured to connect with hospitals and long-term care facilities' existing, digital records-keeping infrastructure. Family members of patients and residents will then be able to log into the web portal to see details from their loved ones' medical charts.
The system will connect to facilities' databases using an API, or application programming interface, but Moore and Muller declined to elaborate further, citing a need to protect their market positioning.
They plan to commercialize Rest Assured by offering it to privately owned long-term care facilities, and are currently in talks for a pilot project.
Facilities will likely pay by the bed, but Moore and Muller hope to make access to the web app free for family members.
"We would really like it to be something that the health authority or the facility pays for," said Muller. "We really don't want to charge family members or users for access to the system."
The decisions about what medical information to share will be up to the individual healthcare facilities, but a comprehensive privacy and security policy is in the works.
"It's realistically up to the private care companies whether they want to share information or not," said Muller. "There will definitely be hurdles, but we're working on it."