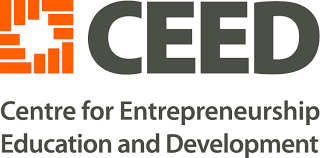 The Centre for Entrepreneurship Education and Development is rolling out new programs on lean startup methodology for aspiring entrepreneurs.
CEED, a provincial business support and growth centre, is wrapping up its first installment of Fit to SucCEED, a six-week business training course that helps people pin down the real value their businesses can deliver to potential customers.
Then, starting in the first week of October, CEED will debut Design to SucCEED, which will help participants who are in the idea stage of growing a business figure out if their idea is viable.
The new programs are part of the centre's objective to educate business-minded Nova Scotians about the lean startup method, which focuses on customer discovery and validation before sales and growth.
"What we're doing is simple, but revolutionary," said Ed Leach, the Director of Education at CEED, in an interview.
Leach said the new programming is part of CEED's mission to move "up-market" and offer more programs that fit with its Self-Employed Benefits program, a course that takes unemployed entrepreneurs from an idea to a business in 40 weeks.
The new programs are shorter, hands-on and encourage participants to work out their business problems together
"That's the magic--cohort," Leach said. "Those who play together stay together. When you have a large group, there's collaboration, and at the end of it you have an alumni group that's connected. It's simple stuff."
Fit to SucCEED is also part of CEED's longer-term Plan to SucCEED program, which offers workshops and one-on-one mentoring with business experts.
In Fit to SucCEED and Designed to SucCEED, problems are addressed right in the classroom and often, according to Leach, sessions can get loud. This is all in part of his goal to foster a less intimidating space for business development.
"If I put you in a three-hour session on advanced finance ratio analysis your head would spin," he said.
Leach, who will be 69 this month, is a champion of the starting lean movement. He brought this ideology to Dalhousie University by founding Launch Dal and its Starting Lean course in 2012 with his wife, Mary Kilfoil.
Graduates of the Leach/Kilfoil programs include Spring Loaded Technology, Graphite Innovation and Technologies, Axem NeuroTech and Trip Ninja.
Though Leach has since parted ways with Dalhousie, he remains committed to delivering what he believes is the gold standard in business-building strategy to the region's entrepreneurs. After this week, Leach will have been with the centre for a full year.
"I'm not done yet," said Leach.