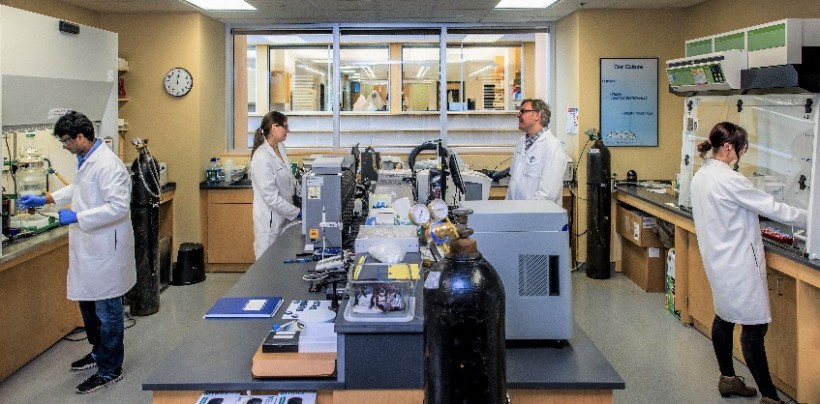 After receiving and rejecting four buyout offers in five years, Solid State Pharma is moving to bigger facilities on the Halifax waterfront and planning a hiring binge.
The company has outgrown its offices at the Innovacorp Enterprise Centre, and will move later this year to a new location near the Brewery facility. The Atlantic Canada Opportunities Agency is lending the company $700,000 through the Regional Economic Growth through Innovation (REGI) program to finance the expansion.
Founded by CEO Mahmoud Mirmehrabi, the life sciences company has developed expertise at converting liquid medicines into solids — the pharmaceutical industry's preferred state to transport and dispense drugs. Mirmehrabi said about 30 per cent of medical compounds are liquids in their natural state, and it is essential to ensure they retain certain properties when converting them to solids.
"Our team is about 15 people now," said Mirmehrabi in an interview Tuesday. "Now we're occupying almost one-quarter of the usable space in the Innovacorp building. So we'll be moving to new facilities."
Solid State Pharma is a service company that helps major pharmaceutical companies around the world change the state of their drugs. For competitive reasons, Mirmehrabi declined to reveal much about the company's sales or how many clients it has. However, he did say exports account for all its sales. It has clients in Boston, California, Japan and Europe, and its sales have been doubling annually.
ACOA Lends Eadie Technologies $300K
To meet the demand for its technology, the company needs more scientists who can help to master the process of converting the drugs. Mirmehrabi said the hiring process in and of itself will amount to a major project for the company.
"We're going to a waterfront facility about three times the size of what we have now and that gives us the room to go to 40 highly skilled employees," he said. "Within the next few years, we have to hire 25 masters and PhDs."
As well as local hires, Mirmehrabi said the company will search across Canada for talent, and bring in people from other countries. Solid State also has a rigorous training program, he said, and there are enough senior executives to ensure the new staff learn the ropes.
A statement from ACOA said Solid State will purchase state-of-the-art equipment to outfit the laboratory where it will conduct innovative research to produce new intellectual property. Pharmaceutical and natural health care companies will use this research to patent new drugs, extend the patent life of existing drugs, and lower required dosages. It added that Solid State will decrease costs for its clients and develop new intellectual property to improve the company's sustainability.
Solid State has never raised equity financing because it hasn't had to, said Mirmehrabi, though it has borrowed money from ACOA and the Business Development Bank of Canada. The company's priority in the next year or so will be to complete the move, bring on new employees and continue to increase its sales.
"We received four requests for an acquisition in the last five years," said Mirmehrabi. "We did not pursue any of them because we're not interested. We want to be here in Halifax 20 years down the road."
Disclosure: ACOA is a client of Entrevestor.