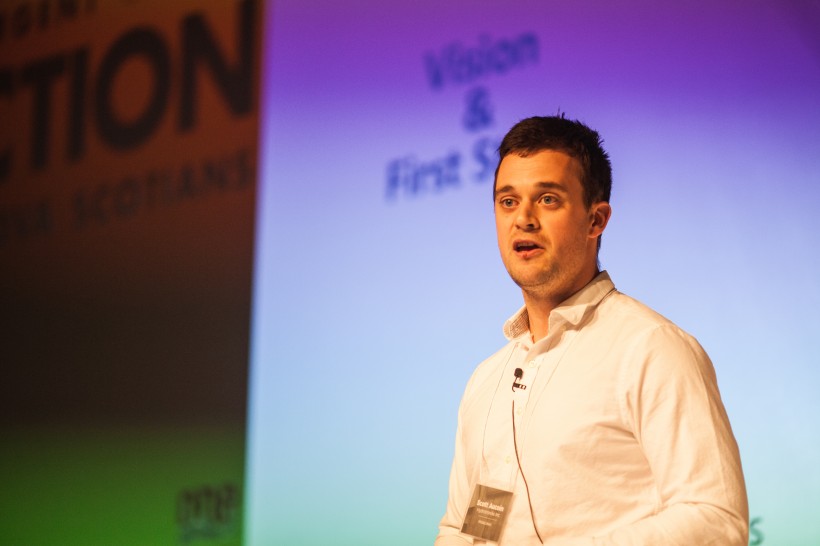 Hydrotroniks is a clean-tech company nestled along the Cabot Trail in Cheticamp, Cape Breton. This company, which is made up of engineers, designers and environmental engineers, aims to create solutions for a more efficient and eco-friendly fishing industry.
Its team is developing environmentally sustainable solutions for small to medium size boats. The company was founded in 2016, with the goal of modernizing the fishing industry by retrofitting vessels with electric drives and other innovations.
Hydrotroniks has built and tested small-scale prototypes of its solutions but it is yet to conduct a full-scale product trial in the ocean.
"It's investment really, that's our number one barrier," said Scott Aucoin, Hydrotronics' director of product design.
"The project makes sense in terms of a lot of the provincial and federal funders and it makes sense to do it here but we need to get that one angel investor that's willing to take a chance and see what we can do."
Aucoin pitched at the Volta Cohort event in May but did not end up with the $25,000 investment. In 2017, the company received investments of a little over $80,000 from the NRC and Innovacorp's Spark Innovation challenge.
The team has been doing market research for a little over two years.
Aucoin said the electric engines Hydrotroniks would install run at 90 percent energy efficiency as opposed to the current diesel engines which run at 30 or 45 percent efficiency. Current diesel fuel engines also cost well over $50,000 and use nearly $300 of gas per day.
He said Cape Breton is really the ideal place for the company to be located and the local fishing community has been receptive to their ideas.
"One of their major costs is diesel fuel," said Aucoin "These engines consume a lot of fuel and they are noisy and smelly and, at the end of the day, if we can provide them with a viable piece of technology that could replace that, they'd be willing to take a long hard look at it and make those replacements."
He continued: "We aren't necessarily worried about getting the support from (fishers). They see the value added in having a more environmentally friendly product but then also in just the costs saved over time."
Aucion said they are looking into ways to improve propulsion systems. And after years of data collection on the water, they have discovered efficiencies that could decrease drag and traction.
They've built prototypes and IP for propeller control, which would make vessels run more smoothly but they need a boat to conduct tests on. The next hurdle for Hydrotroniks is raising the funds.
"For us right now that's a major barrier," said Aucoin. "I know I can't fund the building of a prototype for much longer so at this point we really need that investor or someone with a bit more money to come in and help out."