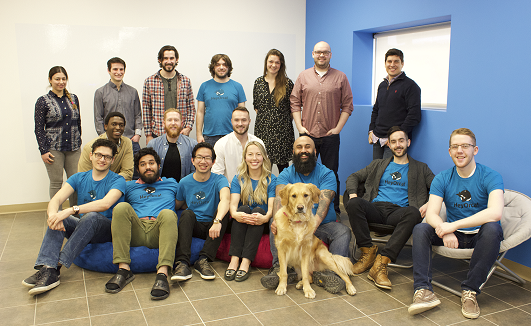 HeyOrca, the St. John's company that helps marketing agencies collaborate with their clients, has reached an important milestone. It has now achieved US$1 million in annual recurring revenue, or ARR.
Co-founded by CEO Joseph Teo and CTO Sahand Seifi in 2015, HeyOrca has developed software that helps agencies to work with their clients in the planning, developing and approving social media content. For about 18 months, there's been buzz about the company because its revenue has been growing so quickly. Now its ARR has topped the US$1 million mark and monthly recurring revenue has increased 170 percent since the beginning of the year.
"We're just doubling down on what works," said Teo, who began to dabble in entrepreneurship as a student at Memorial University of Newfoundland. "Surprisingly, it's not rocket science. It's basically figuring out what works and doing it. … The capital infusion we got this year helped us to double down on that."
In May, the St. John's company announced that it received $2 million in funding from previous investors Killick Capital and Pelorus Venture Capital. This took the company's total equity funding to $2.65 million.
HeyOrca began a few years ago by working on software that would help with the approval process for social media within advertising and marketing agencies. But the founders learned that these agencies have challenges with more than just the approval process. So its product now aids agencies through five phases of the production process – planning, content development, organization, approval and distribution.
"We replace the manual workarounds of spreadsheets, Dropbox and social media publishing tools that is status quo in the production process, by using technology to involve the right people at the right time," said Teo. "We're really excited about this opportunity as the workflow problem doesn't just plague social media, it exists across all asset types."
The product is now used by 300 marketing agencies and brands in 12 countries, and prominent customers include: Johns Hopkins University, Scribd, New York City Ballet and Amazon Alexa.
HeyOrca's growth is continuing. The company is now up to 32 employees and has opened an office in Toronto. Teo said it will continue to focus on the small to medium-sized agencies in the foreseeable future, and that this market is big enough that it has barely scratched the surface.
Teo has already begun to work on the company's next round of financing, which it expects to close in the first quarter of 2018.
"We're really excited about the future of HeyOrca," said Chris Moyer of Pelorus Venture Capital. "This team has what it takes to solve the workflow problem for marketing teams around the world."