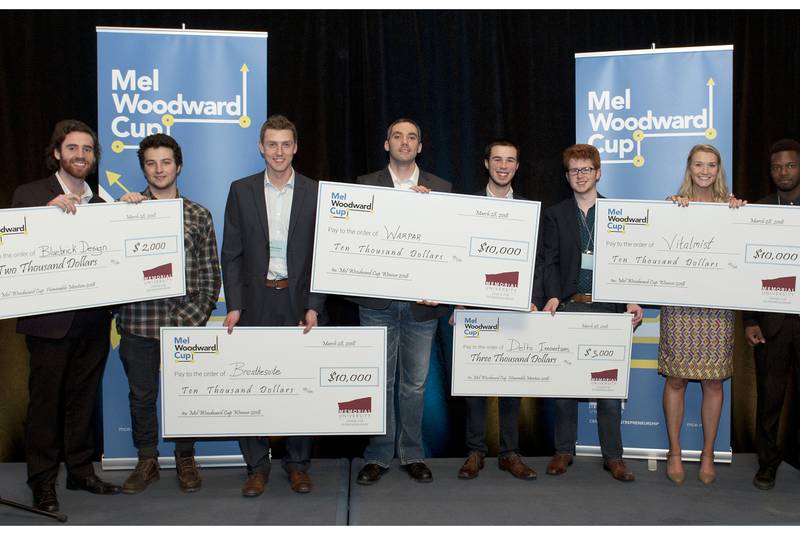 Three Memorial University of Newfoundland engineering students have won $10,000 each at the 2018 Mel Woodward Cup for their innovations in health care and energy efficiency.
The Memorial Centre for Entrepreneurship hosted the business idea competition last Wednesday, which awarded $40,000 in seed funding and other supports to student entrepreneurs.
"Through the Mel Woodward Cup, we're supporting entrepreneurial students in their business development journeys, providing them with much-needed funding so they can take their business ideas to the next level," said MCE Director, Florian Villaumé in a press release.
"By supporting these student entrepreneurs, we're also providing a pathway for young people to stay in (Newfoundland and Labrador) as the province's future business leaders."
BreatheSuite, VitalMIST and WARPAR Corp were the top three winners among the eight finalists.
BreatheSuite, headed by mechanical engineering student Brett Vokey, aims to build an add-on device for inhalers that allows people with asthma and chronic obstructive pulmonary disease to receive optimal dosages of medication.
Read our Reports on Last Year's Winners:
Peachy To Help Seniors Live at Home
Hyperloop Success Leads to CoLab
VitalMIST, founded by Anna Gosine, another mechanical engineering student, offers a nasal optimizer that allows physicians to administer liquid medication effectively.
WARPAR, founded by fifth-year electrical engineering student Warren Parsons, is building a product called Enzo, a light dimmer that can monitor power, and is compatible with most lightbulbs on the market.
The winning students also received up to $1,500 in marketing and legal expenses and will have access to MCE's co-working space as well as enrolment in the Genesis Centre's Evolution Program, and a free seminar from the Gardiner Centre.
Two other companies, Delta Innovations and BlueBrick Design & Development, received honourable mention and prizes of $3,000 and $2,000 respectively.
Chrissy Rossiter, who founded Peachy, a software company that helps seniors, and Adam Keating and Jeremy Andrews from CoLab, a company creating collaboration software for 3D design, won last year's competition.
The Mel Woodward Cup was created in November after a $1.13-million donation from the family of the late Mel Woodward, a well-known entrepreneur who founded the Woodward Group of Companies.