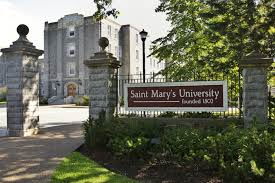 The Province of Nova Scotia will contribute about $11 million to a new facility for entrepreneurship and innovation at St. Mary's University.
On Thursday, the provincial government made the announcement as part of a $244 million wave of funding that came from a one-time windfall from offshore oil revenue. While most of the media attention was dedicated to funding for rural internet, the spending plans included several initiatives to promote innovation and entrepreneurship.
A statement from the government said the funding for SMU aims "to create a physical location that will allow for the development of creativity, innovation and commercialization, and to put students and faculty in contact with entrepreneurs, businesses and the external community."
The university is planning to build a new Entrepreneurship, Discovery and Innovation Hub on the campus in the South End of Halifax. It advances the 'Discovery and Innovation' and 'Intercultural Learning' components of the Saint Mary's University 2017-2022 Strategic Plan.
"Since I became president, we've made entrepreneurship a strategic direction for the university and we've been working and investing in this field," said SMU President Robert Summerby-Murray in a statement.
The other innovation-related funding initiatives that the government announced last week include:
Research Nova Scotia Trust: $20 million to fund post-secondary research in oceans and ocean technologies, life sciences, information technology and other areas.
Offshore Growth Strategy: $ 11.8 million to extend offshore activities in the earth and oil sciences for another four years.
DeepSense: $5 million to support the creation of a platform for ocean data analysis to contribute to the growth of the regional marine economy.
Innovation Team: $1.5 million to support a new suite of projects that will help post-secondary institutions contribute to the growth of the provincial economy, attract students and provide more research and development opportunities.
Sandbox: $850,000 to create a ninth sandbox in the Southwestern Nova Scotia region to bring together students from Nova Scotia Community College and Université Sainte-Anne.
Disclosure: SMU and the Province of Nova Scotia are clients of Entrevestor.