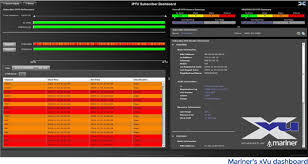 Saint John tech companyMariner has reported strong revenue growth at its flagship xVu division, whose video-system-monitoring software is now assessing 3 billion events a week.
Mariner xVu (pronounced "X-View") is the main product division of the company. It is an analytics system that allows online video content providers to identify and correct problems with Internet video delivery systems. It's an attractive business because video is by far the fastest-growing segment of the internet and that growth is nowhere near reaching a plateau.
Mariner said in a statement last week that the division saw significant growth in Tier 1 operators who are looking for economies when managing new, inter-related services like TV entertainment, over the top streaming, broadband and Wi-Fi. It now has 40 million devices under management, and it is monitoring 150 billion events annually. (An event is basically something going wrong when a user tries to play a video.)
Over the past four years, the division's revenues have been growing annually at about a 30 percent rate and exceeded that level in 2016, said the statement. It did not provide totals for the revenues.
"The technology landscape is changing and operators are investing in customer satisfaction initiatives while looking to capture economies for serving entertainment, Internet, Wi-Fi and mobile offers," said Shaun MacDonald, Senior Vice-President of Business Development and Marketing at Mariner xVu. "As operators add new entertainment offers, they must address the fragmentation of video capable consumer devices and at the same time deploy software systems that support multiple services concurrently."
Hypergive Recognized at Dubai Summit
The Mariner group is unique among the tech companies in the region for several reasons. First, it's chaired by Gerry Pond, the best-known tech investor and evangelist in Atlantic Canada. Second, it's big. The company has said publicly that the group's 2014 and 2015 revenues were around $25 million each year. And third, it is the only tech company with its own broad-ranging investment portfolio. Its East Valley Ventures division comprises a portfolio of more than 20 startups, all but two based in Atlantic Canada.
As well as xVu and East Valley, the group includes: Mariner Innovations, a consultancy business that specializes in application modernization and IT professional services; and Shift Energy, an Industrial Internet of Things company specializing in energy efficiency in large buildings and complexes.
The company's flagship is Mariner xVu, which can figure out what went wrong with video systems even when the issue is hidden deep in the largest systems. It's a difficult task because online video delivery – which has grown even more complicated with the advent of mobile video – involves different components based in different places. Mariner CEO Curtis Howe calls it "finding a needle in a continental haystack."
Mariner said last week the xVu platform continues to take market share from its competitors, and has witnessed significant recent growth as operators expand their streaming offerings.
Said MacDonald: "Mariner brings experience and expertise to support the operations teams so they can efficiently fix problems based on real time visibility, which has its highest ROI during service launches and updates."