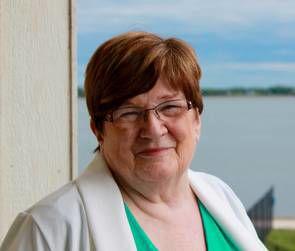 The loss of Kathleen "Kay" MacPhee is being widely felt in the startup community, following the recent passing of the educator and force behind two literacy-focused ventures.
A former teacher who used her expertise and passion to help found Charlottetown-based Ooka Island, a developer of literacy software that teaches young children to read, MacPhee died aged 79 in Charlottetown on May 10.
The Ooka Island game blends phonics and language-based literacy with an adaptive technology, meaning that the system analyzes individual student's results and formulates individual learning paths. In April 2017, Ooka Island was acquired by Scholastic.
Nova Scotia Senator Colin Deacon worked with MacPhee on her first venture, SpellRead. Paying tribute on Tuesday, he said she never questioned a child's ability to become an efficient reader.
"When faced with students who were not making the expected progress, she always questioned her skills, her knowledge, her abilities — never the students'," he said. "Her focus and determination created programs that delivered consistent student results and that were celebrated by some of the most respected experts in North America."
In a January 2014 interview with Entrevestor, MacPhee's granddaughter Joelle MacPhee, then Ooka Island's director of reading partnerships, highlighted the role her grandmother played in founding and building Ooka Island.
She said Ooka was conceptualized by Kay, a teacher and researcher who became interested in reading acquisition when her son, Lowell, was born profoundly deaf in 1960.
Kay MacPhee went on to develop her own program, SpellRead, which she sold for over $20 million in 2006. Two years later, she joined with Jim Barber to develop Ooka Island, believing that an online game would be accessible and thus help more children learn to read.
"Kay started researching language for her son, but then found that parents of other children with learning difficulties also wanted her help," Joelle told Entrevestor. "She always said, 'This shouldn't happen; reading should be as easy as talking. Reading is a basic skill.'"
According to Statistics Canada, nearly half of adult Canadians fall below the minimum level of literacy required to function well at work and in life. "Research shows that reading well by the end of third grade is a strong predictor of how successful a child will be," Joelle said.
Joelle took inspiration from her grandmother. In a 2017 Facebook post announcing the sale of Ooka Island, she wrote: "Building a business is a hard, weird, seemingly-impossible, loooong game.
"In the later years, I finally learned to recognize when I needed to take a break. To step back, recharge, and put things in perspective. To find my anchor. I realize now that my anchor has always been my grandmother. When I felt like giving up, I would think of her legacy and why she started Ooka Island in the first place. I knew if she wasn't giving up, then neither was I, no way. Thankfully, she never did."