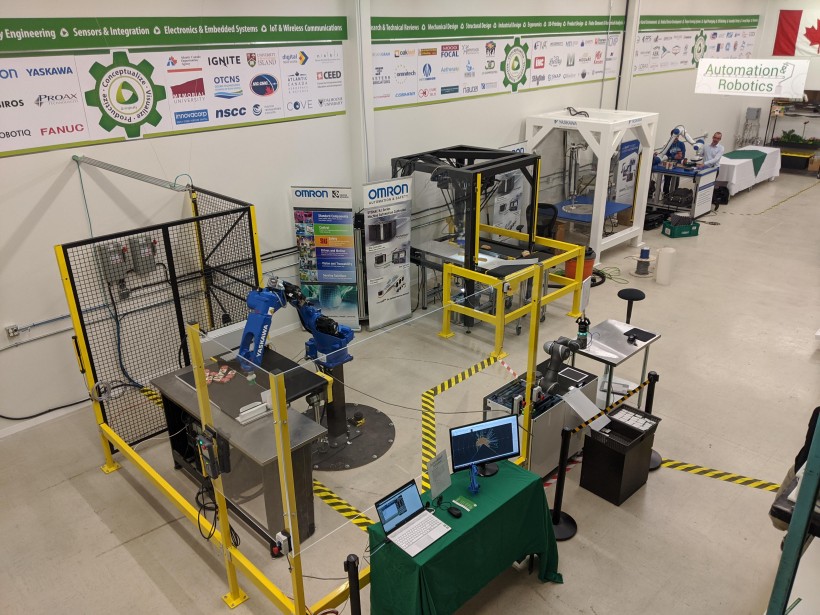 It was bad luck for Enginuity that it scheduled its Robotics and Automation Day on Nov. 28, the day an early snowstorm made travel to its Spryfield headquarters a bit tricky.
But the Halifax-based engineering and design company had provoked enough curiosity about its robotics shop that it attracted a good crowd not once but twice. Some supporters braved the elements on the original date, and others attended a make-up demonstration a week later.
The open house was Enginuity's chance to display the enlarged facility it moved into last year, and demonstrate the capabilities of its 21-member team. The company, which aims to grow to 28 employees in the coming months, is able to work with clients' projects from conception, to basic design, to detailed design, to production.
"There's very little in the Maritimes for hardware startups," said Alastair Trower, the head of business development at Enginuity, as he stood amid onlookers observing the mechanical movements of three robots. "We saw a gap in the market a few years ago, where people want to design products from the ground up, and we've filled that gap."
Enguinity started six years ago in a smaller headquarters in Spryfield, and gained a reputation for helping clients develop hardware. In 2018, it outgrew its original shop and moved into a two-level industrial facility, allowing more growth, and a robotics facility.
Trower describes the cavernous robotics room as "a place for us to work with our clients, where the clients can understand the robots and get to the supply chain to get the right product."
Innovacorp Names Winners of Blue-Green, Start-up Yard Competitions.
Enginuity's clients – whose logos are spread in a banner across the top of the robotics room – include some of the region's largest companies, like Clearwater Fine Foods and Bluedrop Performance Learning. They also include smaller companies that come to Enginuity for a range of services, including robotics.
"Over the past five years, the cost of these things has come down enough that they are now accessible to small businesses," said Trower, gesturing to the robots.
The client list includes a host of startups, from scaling companies like ABK Biomedical and Metamaterial Technologies, to younger ventures like The Lobster Trap Company and Ashored.
Enginuity has a fixed-price Discovery program for entrepreneurs that Trower says can "wrap a team around an idea." The stages are designed to correspond with the common funding programs available in Nova Scotia.
The first stage is conceptual design, which can be financed with the winnings of an Innovacorp competition. Next is preliminary design, which can be funded by IRAP grants, then detailed design, which can be funded with a loan from the Atlantic Canada Opportunities Agency. The firm then offers services in fabrication packages, building and testing.
The Enginuity client list covers a range of sectors. The banner in the robotics room includes the expected manufacturers and hardware producers. It is especially heavy in ocean-related companies, which Trower estimates make up one-quarter of its business. The firm also does work for life sciences ventures, like ABK Biomedical and PhotoDynamic.
"We can take a problem we come across in one industry, find a solution and apply it to another industry," said Trower. "If you can drill into a rock, you can drill into teeth."