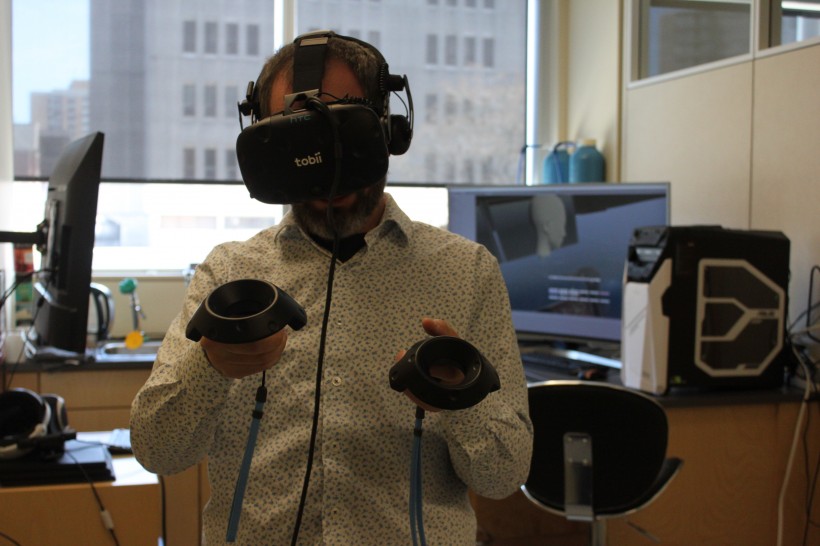 Virtual reality and augmented experiences have revolutionized entertainment and gaming industries but Halifax entrepreneur Ryan Cameron is figuring out how to bring this technology into a clinical setting.
His company Electric Puppets uses VR and eye-tracking technology to improve on the basic tests we take at the eye doctor.
"The idea is to replace the 'gold standard'", said Cameron in an interview. "In current cases, they're using tests that are over 100 years old. It's a combination of lenses, physical equipment, dials and whatnot."
The company operates out of Innovacorp's Summer Street offices and was a recipient of $50,000 through its Spark Innovation Challenge in 2017.
Electric Puppet's system, called Evrisia, uses VR to simulate two standardized eye tests – the Bagolini striated lens test and the worth 4 dot test. They examine a patient's binocular functions, meaning, it looks at how the eyes work together to see clearly.
To use the Evrisua system, patients wear the same device that goes over player's eyes in VR gaming. Depending on the settings, they are transported to a virtual room with leather chairs and a carpet, or a cartoon jungle, or in the middle of a lake.
Then, just like at the eye doctor, patients are shown different objects and illusions and are asked to describe what they see while the Evrisia system tracks and records data on their eye movement.
"We're still contemplating whether or not this is a valid research tool," said Cameron. "For now, we're just collecting data that has never been collected before."
Spring Loaded Shows the Impact of its Knee Brace
Cameron said breakthroughs in VR video rendering have made it possible to accurately track the user's eye movement and collect new data.
Earlier generations of VR would have produced images more slowly than the what the eye can see, creating a disorientating and often nauseating experience. Now, developers have found a way for the tech to track the user's fovea, a part of the eye behind the pupil with the highest concentration of rods, and rapidly generate video from those specific movements.
"So the theory is, if you can track a person's eye movement with enough precision, you can send their eye movement to the video card and the video card would render, with great precision, just the bit you are looking directly at," said Cameron.
Electric Puppets is harnessing this high-precision eye-tracking tech to better understand ophthalmology and along the way, has scooped up investments to the tune of $87,000.
Cameron plans to get the Evrisia system to market through another venture of his.
He is the CTO of Unified Health, which helps people create customizable healthcare solutions. This company is setting up wellness clinics that merge traditional and alternative care practices.
Cameron said he plans to test the efficacy of VR as a tool in these clinics. He's also working with the Children's Centre for Pain Research as an early adopter to test more applications of VR in the medical space.
"We're in preliminary talks to use VR for therapy to work with kids and help pain."