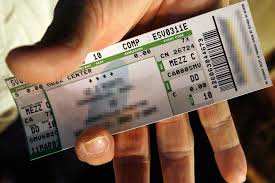 A year after coming up with the idea of using blockchain to battle outrageous ticket prices, Conor Daly and Kyle Gardiner are well on their way to having a basic product to sell to ticketing agencies.
The two Halifax-based founders of UpFront Tickets have graduated from the Propel ICT Launch accelerator and are now preparing to market their technology. They are about two-thirds of the way to completing their minimum viable product, or MVP, with which they plan to attract early customers.
Eventually, Daly and Gardiner hope the product will help people in the entertainment industry rein in scalpers who gouge bona fide fans at popular entertainment events.
"It's been popping up a lot more and the issue is becoming more and more unpopular," Gardiner said of excessive pricing in an interview Monday. "People are starting to get sick of it, so the (ticketing agencies) can change or get left behind."
As business students at Dalhousie University, Gardiner and Daly were struck by the genuine fans who were priced out of the final Tragically Hip tour because of the ticket prices demanded by scalpers. They came up with the idea of using blockchain — the technology that underpins bitcoin and other cryptocurrencies — to control ticket purchases and ensure tickets are purchased (and possibly sold in a secondary market) in a more orderly way.
Blockchain is a series of ledgers in which transactions are recorded so each entry is almost impossible to change. Daly and Gardiner set out to use blockchain to identify the owners of tickets throughout the life cycle of an event and ensure tickets are priced at a reasonable level.
Unicare Develops a Communication Tool for Home-Care Providers
They took the idea through a few accelerators at Dal, then last year won $50,000 in Innovacorp's Spark competition. Using these programs and other funding sources, they produced enough money to hire two full-time developers who are building out the product.
UpFront is developing a "white-label API" that ticketing agencies can use as part of their online ticketing services. What that means is that the company is building an Application Programming Interface, a piece of technology that would plug into the back end of a ticketing agency's website. Consumers would never see the UpFront brand name, as the new system used blockchain to ensure all transactions were legitimate and executed at a reasonable price.
Daly said the agencies — some of whom UpFront has been having conversations with — are incentivized to use their API largely to protect their brand image and to combat ticket fraud, which can cost ticketing agencies, venues and performers money.
The pair of entrepreneurs expect to have their MVP completed in the spring. Armed with a product they can demonstrate to ticketing agencies, they hope to begin trials. They said the sales period would probably depend on the size of the customer — for instance, they could probably reach an agreement faster with an Atlantic Canadian company than a larger ticketing agency based elsewhere.
UpFront is planning to raise a bit of equity capital — about $50,000 to $75,000 — and then raise additional funds from various programs. That money should help to finance the company until it has genuine revenue and can carry out a larger round of funding.
Disclosure: Dal, Innovacorp and Propel are clients of Entrevestor.