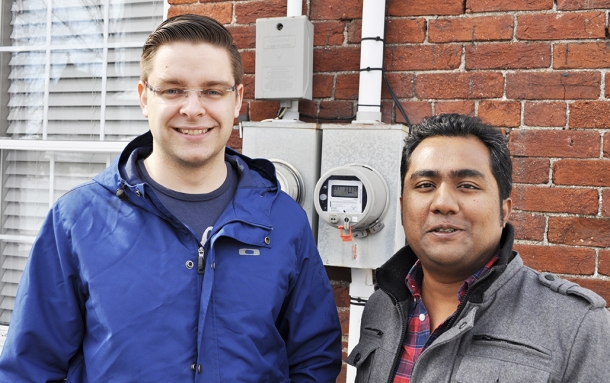 After changing the direction of its business last year, Fredericton's SimpTek Technologies is accelerating its growth, having booked almost $1 million in sales and on the cusp of raising $1.9 million in capital.
The company was founded in 2014 by a trio of University of New Brunswick students to help homeowners and utilities identify where households use the most electricity.
In the last two years, two things have happened that changed the business model: the team realized the best way to make money is to work with a broader range of clients indirectly helping them reduce electricity consumption. And it brought on Halifax-based cleantech maven Megan McCarthy, and is in the process of buying her company PowerWHYS.
As a result, SimpTek is now dedicated to helping a range of electricity purchasers measure their consumption, analyze how it might be reduced and helping them to make the changes that reduce consumption. The company is working not only with the consumers of energy but also with vendors who sell products that can help lower energy use. The team learned that US$133 billion was spent last year on energy efficiency and it wanted to attack that market.
"Everyone is shifting focus to make energy use smarter — they want to make more smarter energy decisions," said co-founder and CEO Asif Hasan in an interview. "There have to be more energy efficient products to achieve it. And we realized that utilities want to sell more than just energy. We realized there are two sides of the market."
UNB Team Makes CanInfra Top 20
For the last couple of years, SimpTek has been developing a digital platform that would allow retail and large energy consumers to measure and analyze electricity use, and find products that will reduce consumption. For that last part, the company works with vendors in making sure consumers find the latest products for energy efficiency.
Hasan said the platform uses artificial intelligence to identify how customers can reduce energy costs, thereby avoiding the need of expensive energy consultants. He added it is "hardware-agnostic" meaning it can be used on a range of electrical meters and products.
The company began beta-testing the platform last February, and as of March 31, the product has generated almost $1 million in revenue.
SimpTek plans to release the latest generation of its platform, which is called Building360, in about a month.
With growing sales, the company has just closed $1 million in equity funding (including an investment from a SimpTek customer in the Middle East), and is now complementing that equity round by raising $900,000 through government grants. The company last raised equity capital in 2016 in a $700,000-plus round led by the New Brunswick Innovation Foundation.
McCarthy, who has worked on a range of cleantech companies for the past several years, has become the company's Chief Business Development Officer and heads up SimpTek's business development efforts in the company's Halifax office.
And business development is now a key effort for this nine-employee company. Hasan said the main effort right now is to grow into international markets, and he highlighted the fact that the company has clients in the Middle East a sign that it can grow beyond Canada.
"It's all about scaling up and growing," he said. "We're launching this powerful platform in the global market and helping the industry to grow faster than it would have if people didn't use SimpTek."