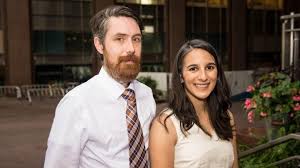 Fredericton-based SomaDetect has won the US$1 million first prize in the 43Northcompetition in Buffalo, NY.
As well as giving the one-year-old company the equivalent of C$1.25 million, the win grants SomaDetect space at the 43North incubator in Buffalo for three year, and 10 years of paying no state taxes in New York State. Buffalo could prove a valuable U.S. base for the company as SomaDetect has used its time in upstate New York to gain letters of intent from 50 dairy farmers to be possible clients when its device is launched in March.
The win is only the latest in a series of successes for CEO Bethany Deshpande and her team. Already this year, they have placed second in the New Brunswick Innovation Foundations' Breakthru competition, and was the co-winner at Communitech's Fierce Founders bootcamp in Kitchener, Ont.
Founded by Deshpande and COO Nicholas Clermont, SomaDetect helps dairy farmers check the health of their herd quickly, accurately and precisely while testing the quality of their milk. Deshpande's patented technology sends a laser beam through the milk as each cow is milked, instantly recording the fat content and somatic cell count, both of which indicate the presence of the disease mastitis and the quality of the milk. The farmer has the data instantly for each cow twice a day.
The Buffalo News quoted one judge in its article on 43North as being impressed with the Deshpande's presentation in the finals of the $5 million competition.
"They were so buttoned up," the newspaper quoted judge David Jakubowski, director of publisher solutions at Facebook, as saying. "The way they articulated the value proposition of why it was good for people, why it was good for cows. She has the potential to be the biggest CEO in dairy."
SomaDetect is now carrying out pilot projects in New Brunswick, and is already developing a network of potential clients in the U.S. The U.S. market will be important because the size and number of dairy farms is so much larger than in Canada.
In the spring, working with the Saint John sales-focused consultancy Momentum, SomaDetect toured Vermont to validate the international demand for its product. The Fredericton AgTech company signed letters of intent with three-quarters of the 80 farmers it met with during the trip.
Kitchener-based Suncayr, whose Spot product tells you when your sunscreen has worn off, captured a US$500,000 runner-up prize at 43North on Thursday.