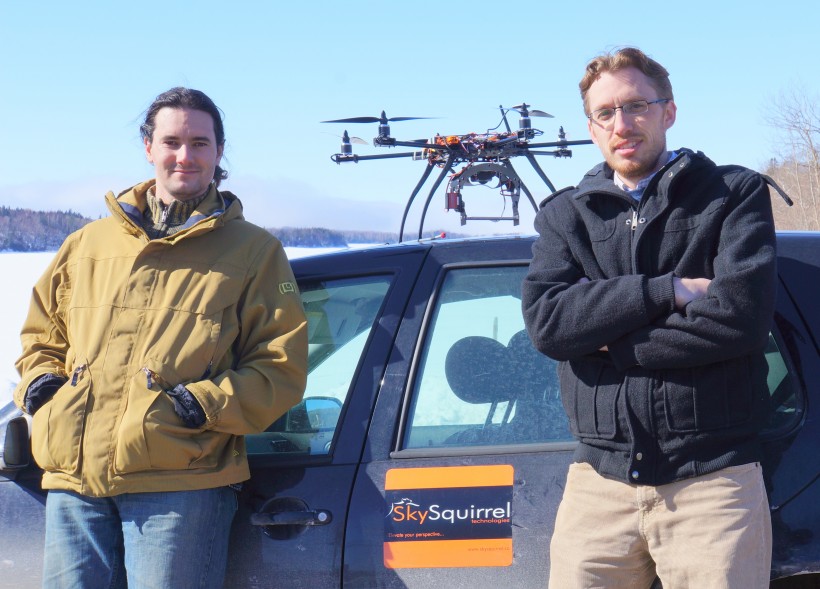 SkySquirrel, the Halifax startup that uses drones to improve yields in vineyards, is gearing up to launch a new product in 2016 that will help attack a persistent problem in the European wine industry.
SkySquirrel's drones survey and collect data on vineyards, detecting diseases in the early stages and helping farmers better nurture their crops.
While several drone companies have developed agricultural products, SkySquirrel has focused on the $85-billion global wine market and is winning clients around the world.
The company has booked $150,000 in sales this year with customers in four continents and is zeroing in on a $1-million round of investment, which it hopes to close in January.
"We not only sell hardware but we develop a relationship with our clients," said CEO Richard van der Put in an interview.
"We help to train them and we work with them to solve the specific problems in their vineyards."
He said vineyard owners use SkySquirrel's data analytics to scout for diseases and understand how to improve growing conditions.
RtTech, LeadSift, SkySquirrel in CIX
The company is focused on releasing its next generation of technology in time for the 2016 growing season. In particular, it is working on technology to combat flavescence doree, a disease plaguing southern European vineyards. There is no cure for the disease, which prevents plants from producing grapes; once it occurs, the farmer has no choice but to destroy the vine before it spreads.
SkySquirrel's current Aqweo drones are mounted with multi-spectral cameras supplied by a commercial provider. The next generation will feature a camera developed by SkySquirrel that is sensitive enough to detect changes in leaf colour when flavescence doree is in its early stages. That should help to prevent the spread of the disease.
The company has already produced two prototypes.
SkySquirrel's early success won it a selection this year to the Canadian Innovation Exchange CIX Top 20, which annually recognizes some of the leading innovative companies in the country. SkySquirrel joined RtTech Software of Moncton and LeadSift of Halifax in the Atlantic Canadian contingent this year.
SkySquirrel began in Inverness County three years ago with the goal of establishing a business around drones. Van der Put and co-founders Tim Stekkinger and Stephane Sogne originally worked on a search and rescue application before moving to agriculture and then narrowing in on wine producers.
Last year, as they moved the company to Hammonds Plains in suburban Halifax, the team launched its Aqweo drone and struck partnerships with several international companies, including the Napa County, Calif., data company VineView, which has been collecting information on vineyards for decades.
Van der Put said SkySquirrel's focus on the wine industry allows for great expansion because wine is such a high-margin business. It is working with a few vineyards, he said, that could produce $1 million in revenue for SkySquirrel each year.
"As we learned more about our markets, we learned that agriculture is not one market. We decided it was clear that the growers wanted not just a measuring tool but a solution that immediately solved their problems."