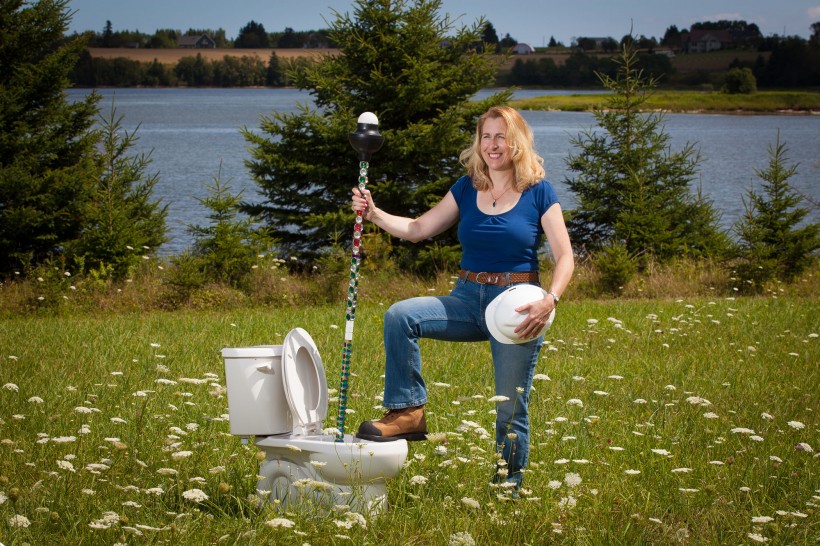 When Freescale Semiconductor put together its Internet of Tomorrow Tour last year, it included an exhibit on a little-known piece of Atlantic Canadian technology many of us would prefer stayed underground.
Based in Austin, Texas and valued at US$11 billion, Freescale assembled a mobile exhibit in a truck to educate its customers and the public about the wondrous things the Internet will do in the next few years. And it showcased Septic Sitter, an advanced system that helps homeowners avoid problems with their septic systems.
Version I is due to be launched this autumn, and its developer Stratford, P.E.I.-based Dynamic Monitors (a unit of Engineering Technologies Canada Ltd.) is already planning for later versions that would feature full Internet of Things applications.
"I want this to be as valuable and logical to have as part of your septic system as the sensors and warning lights in your car – the ones that warn you your engine is over-heating," said Kelly Galloway, the President of ETC.
"I see a system that has flexibility in how the end-user wants to receive the information. I anticipate many septic owners will also want direct communication between the system and their designated service-provider."
Read Our Full Report on IIoT and Big Data
Septic Sitter – whose tagline is "Peace of mind for your behind" – places sensors in a septic tank and drainfield, the underground area that catches the runoff from the tank. The sensors send readings to a sensor hub in the house, which can assess whether there is unusually high runoff and keep a record of effluent levels and temperatures in the septic system.
It sends an alert to any internet-connected device whenever pre-defined alarm levels are exceeded or dangerous trends are detected.
If the flow from the septic tank suddenly spikes, the homeowner can take measures like reducing washing machine use or repairing a leaky toilet flapper valve before there's a catastrophe. The record can also be used when selling a house to demonstrate the septic system is in working order.
Galloway said some people believe their systems will be fine as long as they pump the tanks regularly. But other problems can occur regardless of the usual maintenance and Septic Sitter helps to prevent these.
The market is huge. The U.S. Environmental Protection Agency estimated there were more than 26 million households with septic systems in the U.S. alone in 2007. And the pain is . . . well, ask anyone who's had a septic tank back up how acute the pain is.
The exciting thing about Septic Sitter is what the later generations will be.
ETC is working on an Internet of Things system in which septic sensors can detect high levels, and instantly cause any number of potential overload sources to be shut down. The system might automatically shut off a smart washing machine or close a smart valve on the main water supply to make sure a leaky toilet stops running.
"One of the real big goals for the system … is to not just have early warning capabilities but for the system to be integrated into third party smart home systems and have actuation or control capability," said Galloway, an engineer who specializes in the design, installation and maintenance of on-site sewage systems.
She noted that when people speak about "smart homes" they usually envisage systems that control lighting, heat, electricity consumption and security. But ETC is working on a unique component of a smart home that would benefit tens of millions of homes.
In the lead-up to the launch, Galloway has been refining both the hardware and software side of the product. As of press time, she believed the launch will take place in early October. And she's talking to potential investors with a view to raising money once the product has some sales.
Galloway recently joined an Entrepreneurs3.0 tour to Toronto, during which she pitched for a range of investors. She also went through the Propel ICT Launch accelerator program this summer.
She has presented the product at events like 2015 Water and Wastewater Equipment Treatment and Transport Show in Indianapolis. And, of course, Septic Sitter is part of the Internet of Tomorrow Tour that has been travelling around the U.S.
Freescale now plans to expand that tour, replicating it in China and Europe. And will Septic Sitter be part of it? Galloway wasn't sure. She's been busy focusing on the coming launch, but she's also interested in marketing Septic Sitter in overseas markets.