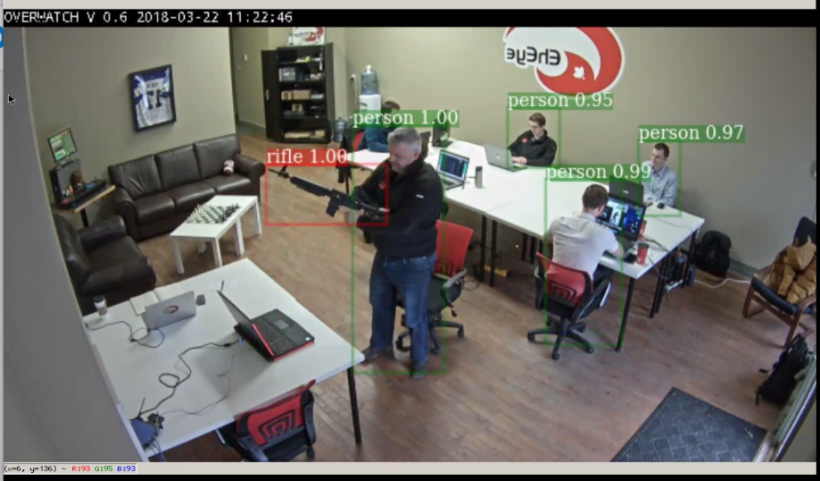 EhEye, a New Brunswick startup that aims to make security cameras more effective, has completed its "MVP 2.0", which is able to detect guns and quickly alert security teams to potential threats.
The software is able to recognize people and, more important, weapons. The photo above shows what a security camera, outfitted with EhEye's system, would record. The green outlines indicate that the camera sees a person, and if someone has a weapon, it can accurately detect that, as shown in the red outline.
James Stewart, the CEO and co-founder of EhEye, says this tech could save valuable time during an active shooting, which on average lasts only seven minutes.
"With everything that is happening today, we are so frustrated," said Stewart, who is a former cop himself. "When you consider that our solution can save seconds during an incident, that becomes powerful when you start breaking down the numbers."
The company's tech can be hooked up to instant security procedures, like auto-locking doors and trigger code-red lockdowns, saving precious time in an emergency.
In the recent case of Stoneman Douglas in Florida, where 17 high school students were murdered in February, authorities learned of the crisis only after the first shots were fired.
"Those procedures are only good if they have the time to actually put them in place," said Stewart. "That's what our software is for, to save lives."
Itavio Lands Funding, Enters HearstLabs in NYC
The consistent wave of gun violence in the U.S. resonates in EhEye's small Fredericton office. Its team of nine is working hard to get the product in front of more industry players and currently hoping to raise $1 million through local angel investors. Stewart says the company is about $250,000 away from that goal. In January, the company said it had closed a $500,000 round, led by the New Brunswick Innovation Foundation. EhEye, which has offices in Saint John and Fredericton, said earlier this month that Saint John Airport Inc. had signed up to be an early adopter of its product.
"We are making good progress but we are also under the gun, no pun intended, because of our financials," said Stewart. "We need to make this work or this fantastic tech could, I don't want say flame out, but we're a small startup so that's always a possibility."
Stewart said $1 million would give the company another 12 months, which is plenty of time to get this screening feature in front of investors, specifically those in the U.S. market. But proving this tech to investors has its challenges.
"There's a challenge because we're from little ol' New Brunswick and because investors have this notion that computer recognition is a single-use case," said Stewart.
"There is an idea that since there are self-driving cars, there must be the ability to detect a gun and that's not the case. And, let's be frank, there is no such thing as artificial intelligence, each case is so different from each other."
What Stewart means is AI technology is not a one-stop solution for all the world's problems. Each solution takes a lot of time and coding to build since there are so many variables. Computer recognition technology has been around for years but Stewart says investors need to be shown that the technology is still developing. There are still lots of things it cannot detect.
Said Stewart: "Show me this technology exists. Show me where Stoneman Douglas had this. Show me where Sandy Hook had this. We're passionate about it to begin with and now we're frustrated and passionate."