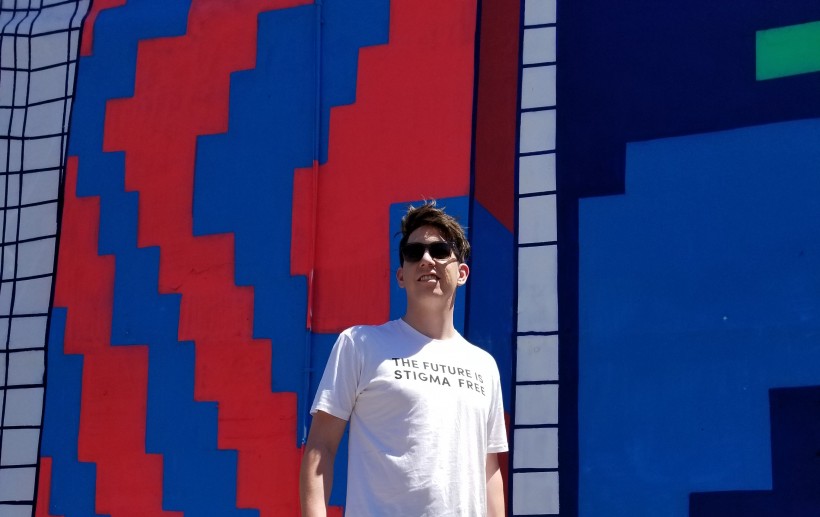 As Kyle MacNevin watched "Finding Hope" on CNN in June, he kept getting messages from friends all asking the same question: Are those people on TV wearing your T-shirts?
The shirts being worn by audience members at the CNN town hall production had indeed been produced by his company, Wear Your Label. The town hall, hosted by Anderson Cooper, was dedicated to suicide prevention, and the organizers had distributed Wear Your Label shirts to every audience member, some of whom had put them on.
The broadcast, which happened to take place after the suicide of CNN personality Anthony Bourdain, had special meaning for MacNevin for two reasons: First, Wear Your Label exists to spark conversations about mental health and combat the stigma associated with diseases of the mind. And second, MacNevin himself had survived a suicide attempt less than two years previously.
MacNevin recently returned to head the company he co-founded in 2014. Wear Your Label has problems, and in a long interview in July, he spoke openly about those issues, his own challenges, and how the two intersect. And he was eager to highlight the major distribution deal Wear Your Label had just signed with Hudson's Bay Company, the largest clothing retailer in Canada.
"I'm doing really well," said MacNevin, as he sat in the coffee shop of the Beaverbrook Art Gallery in Fredericton. He said he has established a solid support network and has learned to look after himself regardless of the ups and downs of his business.
"What I'm learning is, it doesn't matter how much success Wear Your Label has…What matters is how we handle those [successes] and how we move forward."
MacNevin and co-founder Kayley Reed founded Wear Your Label in 2014 largely because of their own mental health struggles. Reed had battled an eating disorder and MacNevin suffered generalized anxiety disorder, manic depression and ADHD.
They decided that every article of clothing they produced would bear a simple message designed to provoke readers into asking what it meant, something like "Sad Is Rad." The goal was to ease into conversations about mental health.
They took their company through the Summer Institute at University of New Brunswick and were soon gaining international attention. Wear Your Label was accepted into the Fashion Zone at Ryerson University and was featured by media outlets like MTV and People. Then things went wrong.
In September 2016, MacNevin posted a video saying he was stepping away from the company because he had attempted suicide a month earlier.
"For a guy who wrote all those words on T-shirts, I never really read them, or understood what they meant," he said in the video in which he looks wan and downcast.
"It's not that I don't love our family and our customers, it's just that I couldn't feel anything, and that's scarier than feeling good or feeling bad."
UNB Holds Graduation for Latest Summer Institute Class
Having been living in Toronto, MacNevin returned to his mother's home in Fredericton where he received the treatment he needed and found his support network. Dhirendra Shukla, the prof who oversees UNB's Summer Institute and its Technology, Management and Entrepreneurship, or TME, program, organized weekly squash games. It was an unobtrusive way of getting the convalescing MacNevin back into society and checking up on him.
"Dhirendra and my mom were the two people who kept me alive," MacNevin said in the interview.
Meanwhile, Wear Your Label began selling apparel on its website, receiving more than 300 orders on its first day – far more than expected. What's more, Reed left the company, creating a leadership vacuum.
When MacNevin returned to work earlier this year, disgruntled customers were complaining online about not receiving their clothes. It meant that the young entrepreneur who had survived a suicide attempt not only had to pick up the reins of his enterprise, he also had to turn around a company in trouble.
Following the advice of mentors, MacNevin went back to Square 1. He had to determine whether Wear Your Label was a not-for-profit or corporation, what its goals were and how it would reach them. His conclusion: "Wear Your Label is a social enterprise that promotes mental health through its products, partnerships and operations."
The company would be headquartered in Fredericton, he decided, and would be a lean organization.
"I'm working out of my mother's basement or in a classroom at TME," said MacNevin. "I don't care about where we work. All I care about is that we're doing amazing things."
The biggest step forward for Wear Your Label was signing the agreement with Hudson's Bay Company, which is selling its T-shirts bearing the slogan, "The Future Is Stigma Free". The retailer is donating all its proceeds from the sales to Bring Change 2 Mind, a charity founded by actress Glenn Close to support mental health.
Meanwhile, MacNevin is working on sorting out the back orders that still have to be filled. He says it's not a problem that he is just going to throw money at. He wants every disappointed customer to understand what happened and to feel the situation has been made right. Wear Your Label is holding off on online sales until that's achieved.
With the HBC orders going through, MacNevin is building up staff, with a focus on hiring a Chief Operations Officer. He needs someone who understands 21st Century fashion, and the different dynamics and supply chains for online and retail sales.
The goal now is to attract investment and build a profitable company, but it is also to help as many people as possible. "I honestly think this time the success of the company will be measured by how many difficult conversations we can have with people," said MacNevin. "The story we want to tell now is that not all suicide attempts end in tragedy."
These difficult conversations could be with people who feel aggrieved about unfilled sales, or with people with mental health problems
MacNevin said he's making personal progress. His depression prevented him from feeling anything but an overwhelming numbness, but he is now able to enjoy Wear Your Label's success without lashing his mental state to the company's fortunes.
Said MacNevin: "Now I really feel the company, and that's better than any prize you could win."