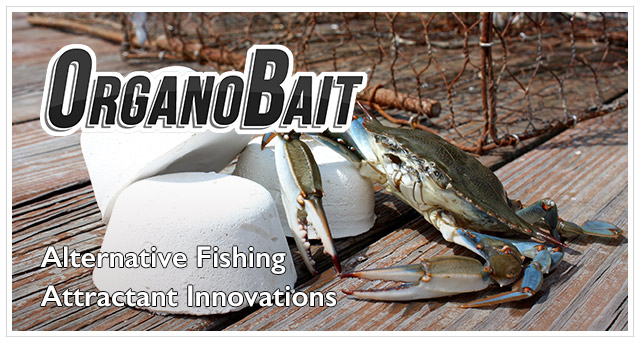 Two Nova Scotia entrepreneurs are partnering with a North Carolina life sciences startup to develop a more cost-effective and environmentally friendly system for baiting lobster traps.
Vince Stuart is the president of Clare Machine Works and Matt d'Entremont is the director of Dalhousie's Nova Scotia Product Design and Development Centre. Together, they are designing and testing a suite of new delivery technologies for OrganoBait, a synthetic bait from Kepley BioSystems.
Standard practice in the lobster industry is to place food-grade fish inside traps. But when the lobsters enter, they often eat the bait, preventing it from attracting other lobsters.
"The quest for, you might say, a magic bait has been ongoing for fifteen years, if not longer," said Stuart in an interview. "The industry has now come to the realization that bait shortages are imminent and bait prices are skyrocketing."
Key to Stuart and d'Entremont's system is their Bait Savour, a device that places a cover over a piece of bait, and slowly lifts the cover as a water-soluble fuse degrades over a period of hours or days.
Traps can hold many lobsters at once, provided there is enough bait dispersing in the water to act as an attractant.
When lobsters eat conventional bait, it forces fishermen to check and rebait their traps frequently, which increases their fuel and labour costs.
The Bait Savour makes it possible for fishermen to place one piece of unprotected bait in the trap and a second piece under the cover, for later release.
ReelData Wins Start-Up Yard Pitching Event for OceanTech Companies
"What happens when you do that is you save trips to sea and get more yield," said d'Entremont.
OrganoBait has an odour that is many times more potent than actual fish. It attracts lobsters from a wider area and is designed to be unpalatable if they attempt to eat it.
Because the synthetic bait pucks gradually dissolve in water, the technology is likely to be much more cost-effective when paired with the Bait Savour.
Stuart said there are at least two other elements of the new bait system that buyers will eventually have the option of incorporating, but trade secrecy prevented him from elaborating.
In November, the suite of products won Stuart and d'Entremont first place at Ignite's Lobster Bait Challenge.
Laboratory testing for the combined system began at the Université Sainte-Anne, near Yarmouth, about three weeks ago, and Stuart predicted that the lab trials will last another two to three weeks.
Sea trials, during which the technologies will be put to work in actual lobster fisheries, were originally planned to begin shortly after the end of the lab testing, depending on the results. But Stuart said it is unclear whether or not the COVID-19 pandemic and Nova Scotia's newly declared state of emergency will influence that timeline.
"The situation with COVID-19 and with industry will also determine where we will be, development-wise," said Stuart. "But we can and we will continue on the science side throughout this spring and hopefully into the summer."
Before the pandemic, Stuart and d'Entremont had been aiming for commercialization in about a year.
The patent for OrganoBait is owned by Kepley BioSystems, while Stuart and d'Entremont own the intellectual property surrounding the Bait Savour and the rest of their delivery system.
The details of their partnership with Kepley are still being negotiated, but the tentative plan is for Stuart's Clare Machine Works to handle manufacturing.
Kepley said in a March 17 press release that it is seeking equity investors, not just for OrganoBait, but for its entire business, which includes a portfolio of multiple products.
Stuart added that he and d'Entremont could potentially make an announcement about their own fundraising plans within six months.