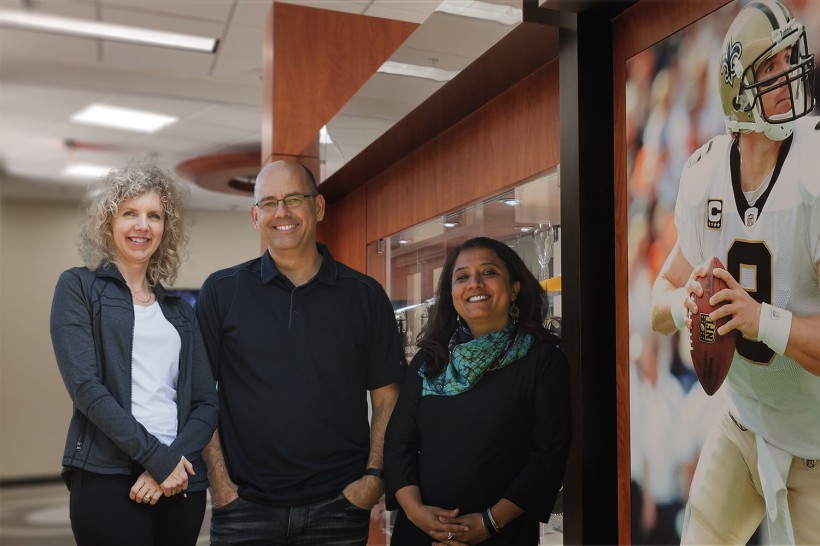 Avrij Analytics, which uses athletes' social media activity to assess their personality traits and mental health, has rolled out a new app to help National Football League teams track their players' reactions to COVID-19.
The Ottawa- and Fredericton-based company's main product offering uses machine learning to provide team management with information about players' psychology. The new app, which was created at the request of a football team and is called Rookie Wellness, uses the same technology to track how novice players are adapting to their new jobs and to the pandemic.
Avrij was founded in 2016 by husband-and-wife team Garfield Fisher and Carmen McKell, along with Shambhavi Pundir. Fisher and McKell are serial entrepreneurs who have been in business together for about 30 years. Pundir was chief operating officer for their previous company, BaseMetrics Inc, where she spearheaded their Indian expansion.
"We're looking at, what is the character of this player and is he a good match for a particular team?" McKell, Avrij's president, said in an interview. "These players may be very equivalent in terms of skill on the field, but they may have a variety of different characteristics."
Avrij's software scrapes players' Twitter and Instagram accounts for clues about their personalities, values and communication styles. It then aggregates the data into easy to understand "off-field insights" that can be viewed by scouts and other decision-makers when they're recruiting new athletes.
Most players maintain strong social media presences for self-promotion, with the result that Avrij has large potential data sets to draw on.
McKell said she and her partners are also eyeing several additional social media platforms, including TikTok, as possible new sources of information.
The trio were inspired to create Avrij after noticing that sports teams often applied sophisticated data analysis techniques to in-game strategy, but usually relied on antiquated approaches to human resource management.
"In our previous company ... we had some interns working in the area of sports analytics and what we discovered was that the teams were actually printing -- on paper -- one Tweet at a time ..." she said. "There was just no way they could cope with the volume of data that was out there."
Teams currently purchase annual subscriptions to Avrij, although a monthly option is in the works.
Six NFL teams have signed on, as well as a major league baseball team, and McKell said Avrij is pursuing top-ranked university football teams, like Notre Dame and Penn State.
Avrij's business plan calls for it to eventually expand into hockey and basketball leagues. Later, the company will probably also target non-sports industries, such as universities and law enforcement.
To help break into the tightly knit worlds of professional sports leagues, Avrij is enlisting the help of retired athletes and executives, such as former Buffalo Bills football players Eric Wood and Jerry Butler.
Avrij has about 10 employees, and McKell said that number could as much as triple over the next couple of years, depending on the success of the company's expansion plans.
She added that Avrij is in the process of raising a seed round that she and her partners will cap at $2 million. Previous funding has come from Atlantic Canadian groups, such as the New Brunswick Innovation Foundation, but now the company is targeting investors with ties to the sports industry.
Avrij is also in the process of inking a deal with a government agency to fund research about whether players' online behavior can help predict their athletic performance. The work will follow up on previous research that was backed by the National Research Council, although that agency is not involved in the soon-to-be-announced grant.
In addition to Rookie Wellness, McKell said COVID-19 has proven to be a boon to Avrij's core business because team staff are having less contact with players and looking for other ways to check in on them.
"We are getting some feedback that there is even more interest in what we are providing," she said. "There is a lot less face-to-face interaction in the sports industry right now, and a lot of the front office staff are very interested in staying current with what's going on with their players, both on and off season."