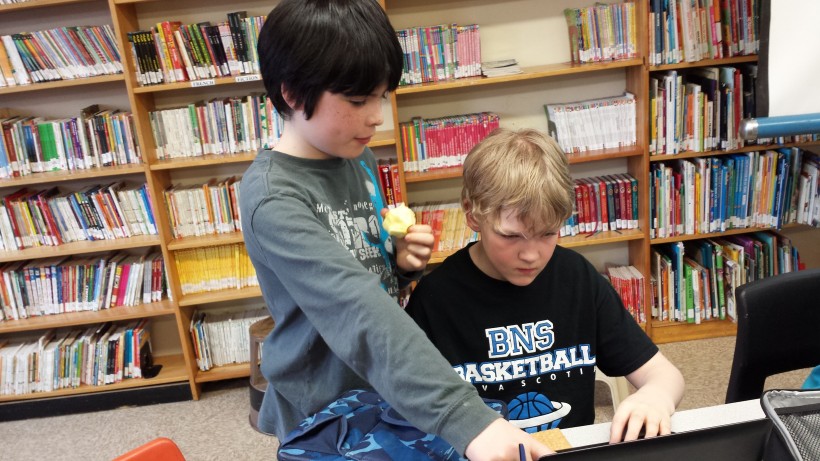 While countries such as China, Estonia and Britain prioritize teaching computer programming to the very young, most Canadian students do not learn how to code until the final years of high school. But a new lunch time tech club at Le Marchant St. Thomas Elementary School in Halifax is teaching programming to children aged nine and ten, and its organizers want to share their program across the province.
The tech club for students in grades four to six started at the school last September after dads Craig Brown and Derek MacDonald came up with the idea. MacDonald, a teacher with tech experience, put the course together. Now, the two of them run the club with the help of Grant Kennedy, also a teacher and father of elementary school age children.
A group of around 20 students turn up with their lunchboxes every Monday at noon and get on with working on their projects. It's a very relaxed atmosphere. Students learn how to design their own computer games using simple, visual software such as Logo, Scratch or Tynker with assistance from their teachers, or even better, other students.
"It's about kids having fun. The freedom to make their own choices is a huge motivator," said MacDonald.
The software packages use colourful, drag and drop tools that are easy to operate and allow the children to experience success. For example, a child can choose to turn a car in a game left or right by picking a certain option. Their teachers say the students are learning logic, but they don't have to worry about the colons and semi-colons of the syntax involved in writing regular code. The keenest students also access the sites from home.
"I have a non-tech teaching background, so I appreciate the fact that the software is easy to use, and therefore easy to pass onto others," said Kennedy as he hovered over the youngsters, waiting to be called on for assistance.
The children certainly seem engaged as they work singly or in small groups, creating little hubs of activity around the classroom. Asked for their views on their innovative lunchtime activity, Brown's son Callum, aged nine, described programming as "challenging and fun".
"You can do whatever you want, and we have really great teachers," said Zach MacDonald, aged nine and three quarters.
The club does face challenges; scarce resources mean the kids have to use old equipment and there are internet-blank spots in the room where they meet. But the teachers have managed to keep the club accessible by charging a fee of just $30, and the number of girls in the group is growing -- there are now about five girls, or 25 per cent of the total.
The three dads are keen to share what they have learned.
"We want to get the word out," said Brown, who is the CEO of Halifax tech startup Interview Rocket. "We'd like to hold webinars with interested parents and teachers around the province to let them know what's worked for us and what hasn't. We'd like to see this kind of program in every elementary school in the province. A bit of corporate sponsorship wouldn't go amiss. We could get it around the province with little or no investment from school boards."
Schools, teachers and parents around Nova Scotia interested in learning more about starting their own Tech Club for kids should contact the group at
nstechkids@gmail.com
.