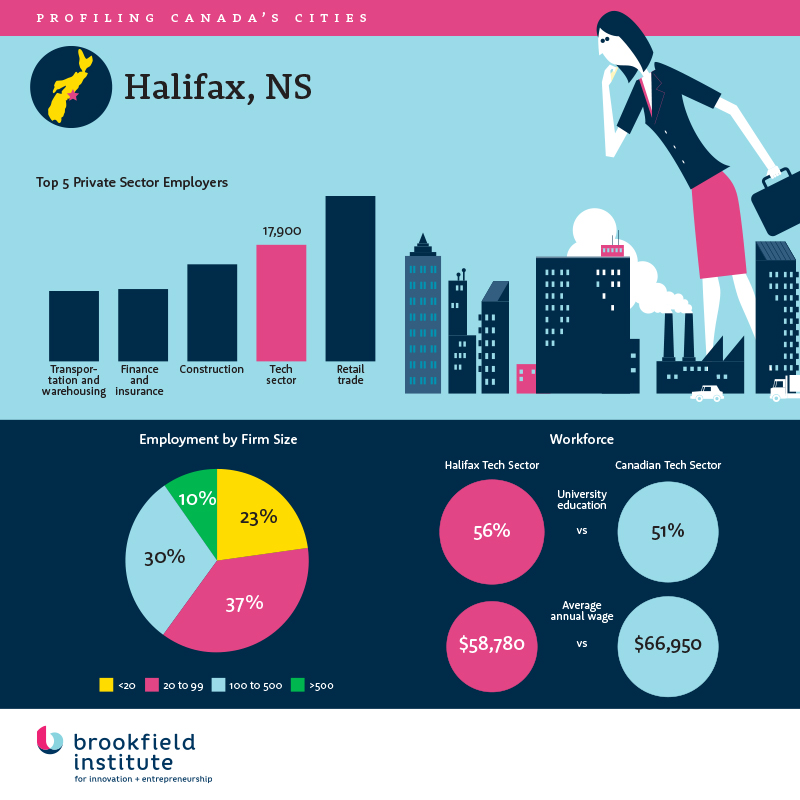 A new study of Canada's information technology sector shows the country's tech segment is bigger — and slower growing — than you might have expected.
And the report offers glimpses of the tech scene in Atlantic Canada. It said tech employees make up a far lower percentage of the region's workforce than the country overall, but also says Atlantic Canadian cities match or exceed the concentration of tech employees in the country.
The data is found in a new report titled The State of Canada's Tech Sector, 2016 by the Brookfield Institute for Innovation + Entrepreneurship at Ryerson University in Toronto. The report — prepared in conjunction with partners across the country, including the Venn Centre in Moncton and Volta Labs in Halifax — focuses on the impact that technology and tech-related jobs have on the size of Canada's economy and workforce.
"The key to future economic growth and stability is understanding where Canada's strengths lie," said Brookfield Executive Director Sean Mullin in a statement. "This benchmark study demonstrates a vibrant and diverse tech sector, and its potential as a driver of innovation and economic growth."
But it also highlights just how slowly the sector is growing.
Between 2007 and 2015, the technology sector in Canada grew at an annual rate of 1.4 per cent, a slow steady progression that overall fell short of the growth in such sectors as finance and construction, said the report.
It adds that the tech growth was less volatile than those other two sectors.
Read Our Report on Scaling Companies in Atlantic Canada
The Brookfield researchers add, however, that 14.9 per cent of the companies in the tech sector can be classified as "high-growth companies," which are those that grow 20 per cent or more three years in a row.
That's a higher percentage than any other sector.
Overall, technology accounts for 7.1 per cent of the Canadian economy, making it a larger sector than finance, wholesale, retail, transportation or utilities.
The area in which tech really shines is Business Enterprise Research and Development — tech companies spent $9.1 billion on R&D in 2015, more than half of the Canadian total.
Tech wages average almost $67,000, or 40 per cent more than the average Canadian wage of $48,000.
About 864,000 Canadians are employed by the tech sector, or about 5.6 per cent of the Canadian work force.
Atlantic Canada has a lower concentration of information technology than the rest of the country, given that tech employees account for only two per cent of the region's work force.Only Saskatchewan has a lower proportion among the provinces.
The report notes that tech concentrations are highest in major cities.Halifax has a concentration of tech professionals that is 20 per cent higher than the overall Canadian figure. Halifax is exceeded only by Montreal, Toronto, Kitchener-Waterloo, Ottawa, Calgary and Vancouver. Even Saint John and St. John's have a tech concentration that matches the Canadian figure and is higher than Edmonton, Winnipeg, Saskatoon, London and Hamilton.
The Brookfield report also noted that average annual wage for Halifax tech employees is $58,780 — 12 percent lower than the national average.
"Halifax has almost as high a concentration as the Kitchener-Cambridge-Waterloo area, and even Toronto," Volta Labs CEO Jesse Rodger said in an email. "The competition for talent is global, and Halifax is well positioned, as established in the Brookfield report."