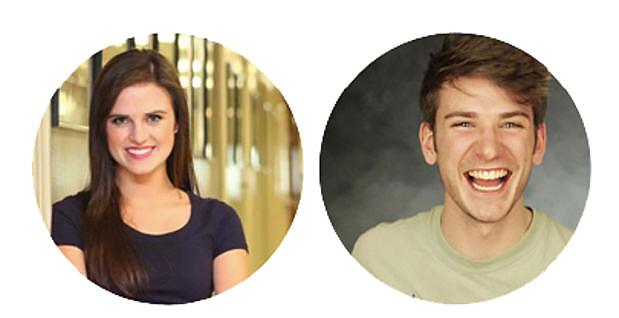 Pout, the Waterloo Region company whose app allows people to explore the fashion industry, has been bought by San Francisco-based Everalbum for an undisclosed sum.
The company's co-founders, engineer Laura Smith and designer Riley Donelson, will join the Everalbum team in Kitchener and continue to grow the Pout brand on a global scale.
"We're proud that this acquisition continues our relationship with the Waterloo tech community," said Donelson, in a statement distributed by the Waterloo Accelerator Centre. "Pout joins a list of successful startups emanating from University of Waterloo, Velocity, Communitech, and the Accelerator Centre. We're excited to continue the movement started by our tech peers, like Google, Kik, and Shopify, in establishing a Canadian ecosystem which we are proud to be a part of."
Smith and Donelson started Pout to develop and foster a community of people who are passionate about beauty and fashion. Their app allows users to explore, discover and share their experiences, styles and techniques through photos and videos. It has gained traction, striking a chord with both users and large brands in the fashion industry.
Pout began in the University of Waterloo's Velocity program, and subsequently joined the second cohort of Accelerator Centre's AC JumpStart program to help grow and scale their business to a broader audience.
Everalbum is a blend of a productivity-app and a cloud-storage solution that allows people to store and share their photos and videos forever – the modern equivalent of a family photo album.
The acquisition process began when Donelson traveled to San Francisco to explore funding opportunities, and met Everalbum Co-founder Andrew Dudum through a mutual friend. They quickly discovered they had common ambitions and goals and stayed in touch over the next few months.
Dudum mentioned Everalbum's desire to establish a second office in Waterloo Region due to the strength of the ecosystem and the talent pool. Everalbum moved into Kitchener's Lang Tannery building in November and talks about acquiring Pout quickly ensued, said the statement.
"This acquisition is part of a company-wide effort to build the most seamless, mobile first photo experience on iOS and Android," said Dudum. "Today, we strengthen that ability by adding some of the best design and engineering minds to our team. Pout's vision for a community of fashion conscious users was to help them explore their unique sense of fashion through photos."