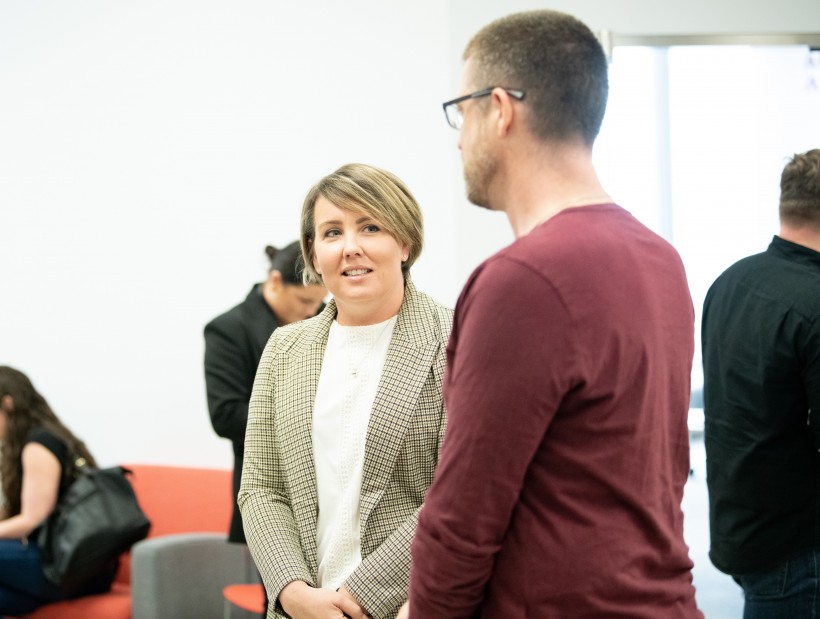 In less than two years, the Creative Destruction Lab-Atlantic has established itself as the main angel funding group in Atlantic Canada, with its members investing about $7 million into 23 companies – so far.
The CDL is primarily a mentorship group that assembles wealthy businesspeople (which it calls fellows or associate fellows) to advise and invest in young innovation companies. It requires the companies to reach a series of benchmarks through the nine-month program, and those that don't meet the benchmarks are asked to leave. Twelve companies graduated in 2018, and 11 graduates from the most recent cohort will head to the final "super session" in Toronto next month.
"What's remarkable is that at this stage, being a month out from the super session in Toronto, these companies (the 2019 graduates) have collectively closed $3 million in equity investment and the majority has been 25 cheques written by our angels and fellows," said CDL Venture Manager Gillian McCrae in an interview Wednesday.
She added that most of these companies are continuing to raise money and expect to close a further $8 million to $10 million in funding this summer, hopefully aided by meetings with other investors at the super session.
She said that the 12 companies in the first cohort raised a total of $10 million in 2018, and $4 million of that total came from CDL fellows and other angel investors affiliated with the group. The Year 1 companies closing large rounds included: Fredericton-based natural preservative maker Chinova Bioworks, which raised US$2 million (C$2.6 million); St. John's-based Mysa Smart Thermostats, which raised more than $2 million; and Halifax-based construction software maker Harbr, which raised $1.75 million.
CDL Atlantic is hitting its stride at a time when startup support experts have been expressing their concern about the lack of angel funding in the region, especially after the pioneering First Angel Network closed its doors this year after 14 years of operation. But the results reported by CDL show it is backing more companies and providing more funding than other angel groups have. What's more, it has introduced some of the region's leading business people, like IMP founder Ken Rowe and former Emera CEO Chris Huskilson, to angel investing.
"Some fellows are becoming angels for the first time," said McCrae. "Some are supporting a handful of companies and others have made a lot of investments. We've got seasoned investors and we've got new investors and it's creating a lot of energy in supporting these companies."
Still, CDL's raison d'etre is mentorship and McCrae said the fellows have helped several of the companies in the development of their products or in finding new markets. For example, Halifax-based Motryx Co-Founder Franziska Broell credits CDL fellows with helping her company (formerly Maritime bioLoggers) transform from tagging and tracking marine life to a company serving the more lucrative healthcare industry.
CDL-Atlantic was criticized early on for having only male fellows, the organization has since added female advisors, said McCrae. Sally Daub, CEO of ViXS Systems, is now a fellow, and the organization has eight female associates. She added that four of the 11 CDL-Atlantic graduates this year are companies headed by women.
The organization is now accepting applications for the 2019-20 cohort for its programs in Halifax and other Canadian centres, as well as New York and Oxford, England. You can find the application forms and details about the process here.