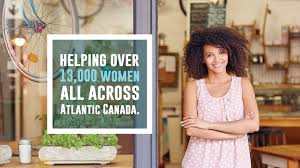 The federal government on Monday announced grants totalling $4 million to support the work of two Atlantic Canadian organizations that promote entrepreneurship by women.
The government said it would give $2.1 million to the Centre for Women in Business, which is based at Mount St. Vincent University in Halifax, and $1.9 million to the St. John's-based Newfoundland and Labrador Organization of Women Entrepreneurs, or NLOWE.
The government is making the donations through its Women Entrepreneurship Strategy, which includes a $2 billion fund and aims to double the number of women-owned businesses by 2025.
"The women entrepreneurs and business leaders of Atlantic Canada make incredible contributions to our economy and community every day," said Rural Economic Development Minister Bernadette Jordan in a statement. "From tackling pay equity to modernizing parental leave, this government is taking action on gender equality, and that's good for Canada and good for Atlantic Canada because when women succeed, we all succeed."
The statement said the Centre for Women in Business, or CWB, will use the money to develop and deliver a management program called "Greater Heights for Growth." It will target women-led, profitable businesses with revenues of $1 million or more, preferably in high-growth sectors where women are often under-represented, such as oceantech, agritech, advanced manufacturing and IT.
Founded more than 27 years ago, the CWB has worked with over 16,000 clients. Over the last two years, it has delivered programming to more than 250 companies in Atlantic Canada.
The NLOWE grant will create the Atlantic Canadian Women in Business Growth Partnership, which will include CWB, the PEI Business Women's Association, and the N.B. Association of CBDCs Women in Business Initiative. This initiative will address gaps in the entrepreneurship ecosystem for women-owned businesses, said the statement.
Since 1997, NLOWE has helped women to establish and expand businesses and to participate in community economic development processes. It serves more than 1,100 women entrepreneurs annually.
"A solid business model gives businesses a critical foundation to innovate and grow," said CWB Executive Director Tanya Priske in the statement. "The Greater Heights for Growth program will help women business owners build and improve this foundation, propelling their companies to even greater economic and social returns in Nova Scotia and beyond."