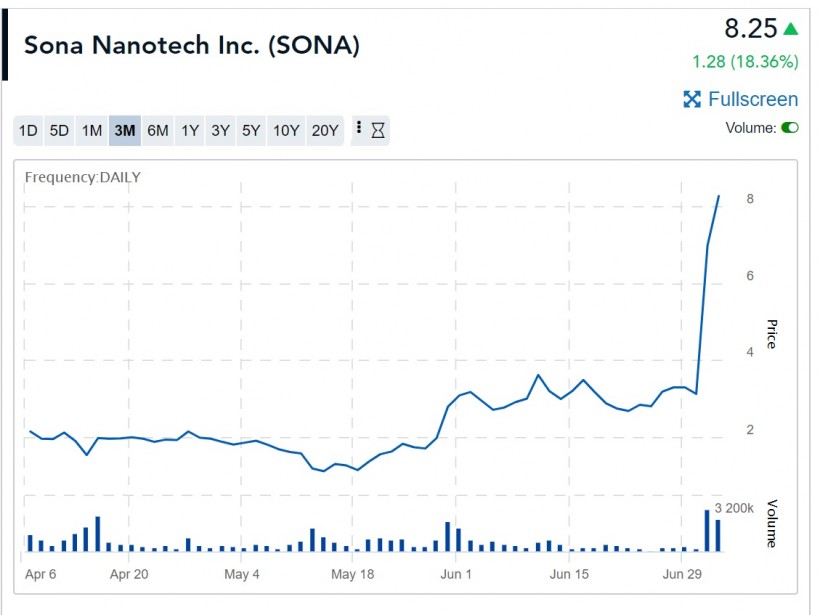 Well, another day, another $70 million.
That's what life has been like for Sona Nanotech recently. The Halifax nanoparticle maker's shares gained 18 percent to $8.25 on Monday, lifting its market capitalization (the total value of its stock) by almost $70 million to $443 million. That came after Sona shares gained 123 percent on Friday, giving it a market cap of $374 million. This all happened after the company announced positive clinical results for its rapid COVID-19 test.
Though the outlook could change, Sona Nanotech looks like it will be the biggest story in the East Coast startup community this year, so here are a few random thoughts on the company:
Half a Unicorn in Half a Year – Startup types go ga-ga at the thought of a unicorn, or a company valued at $1 billion. It appears that St. John's-based fintech company Verafin reached unicorn status last year, and now Sona Nanotech has breached the half-way point. Sona shares at one point Monday hit $9.40, giving it a market cap of $504 million – half-way to unicorn-hood. To put its market value in perspective, the company at the close Monday was worth more than the exit values of Fredericton-based Radian6 or Halifax-based STI Technologies. Those companies sold out for $326 million and $200 million-plus respectively, and they are still considered great deals.
No One Saw This Coming – One interesting thing about the Sona story is none of the investment groups or major angels in the region made equity investments in Sona – at least not publicly. The company received $50,000 in Innovacorp's Spark competition, and it got some investment from individual investors as well as some non-dilutive financing. When Entrevestor wrote its 2019 Atlantic Canada Startup Data report (which will be released soon) we listed 49 elite companies and 46 scaling companies, and Sona Nanotech wasn't among them. In hindsight, it seems obvious investors and the media overlooked a great company.
I'll take that line of thinking a step further and say three years ago I would have classified Sona Nanotech as a zombie company. It had been formed around research conducted by St. Francis Xavier University profs Gerrard Marangoni, Kulbir Singh, and Michael McAlduff, and drifted from Antigonish to Sydney to Halifax. In 2018, BioNova posted a blog saying the company had hired a biotech executive from Wales called Darren Rowles as its new CEO, and it was planning to list on the TSX Venture exchange. It ended up listing on the alternative Canadian Securities Exchange at 25 cents a share in October 2018, and that fell to 11 cents by the beginning of 2020. I repeat: no one outside the company expected this sort of gain.
How Much Can It Raise? – BioNova has been touting the vast amounts of capital flowing into medical technology companies this year: $25 million into IMV, $27 million into Appili Therapeutics, and $3.4 million into Adaptiiv Medical Technologies. Sona has received a $4.1 million grant from the NGen manufacturing supercluster in Toronto, but it hasn't raised a nickel in equity financing. No doubt, it will before too long. How much? Dunno. But Appili today has a market cap of $63 million and IMV $263 million, which suggests that, barring a calamity, Sona should be able to raise at least as much capital as they have. Rowles and his bankers may want to receive regulatory approval for the COVID-19 testing kit before going to investors for more investment.
What's the bigger story for life sciences? – There's been a transformative change in the biotech space in the last two years. Two years ago there was one publicly listed company (IMV). Now there are three companies with stock market listings, and they have about $800 million in value. What we don't know is whether this trend has staying power or is just a flash in the pandemic. (Sorry. I couldn't help it.) There are smaller medtech companies gaining traction. Could Halifax or Atlantic Canada have a cluster of a dozen listed medtech companies in three or four years? It's impossible to say, but it's certainly time to re-evaluate the potential of this sector.