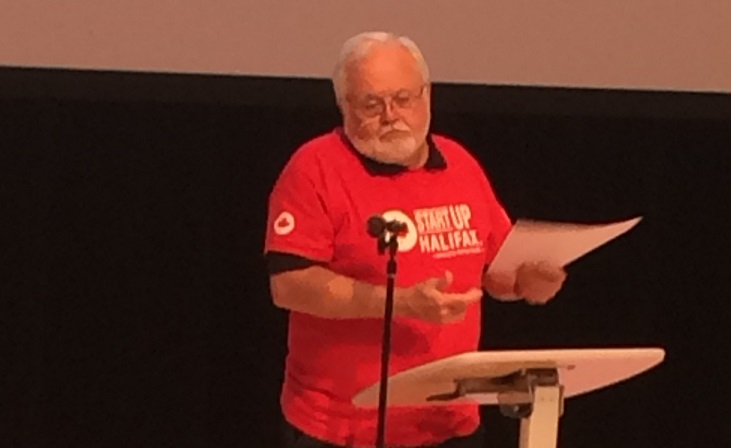 Would-be entrepreneurs should build their businesses around problems worth solving, a large audience was advised Tuesday night as they gathered in the Halifax Central Library to learn from the experiences of eight successful local entrepreneurs.
The event, titled An Insider's Look at Homegrown Startup Success, was hosted by John Hamblin, President of Startup Halifax.
The audience of about 300 was told growth will be boosted by further developing the ecosystem. Upcoming initiatives include COVE (the Centre for Ocean Ventures and Entrepreneurship), and the new arm of the Creative Destruction Lab tech accelerator.
Fundmetric's Co-Founder Mark Hobbs, whose software company helps charities raise money, offered the advice about problems worth solving. He said charities struggle because 50 per cent of donors don't donate to the same charity two years in a row.
His theme was echoed by Gregg Curwin, Founder of TruLeaf Sustainable Agriculture, which designs and makes vertical indoor farms, in order to improve human health. TruLeaf is Curwin's seventh startup. He established various healthcare-focused companies before founding TruLeaf in his mid-forties in Bible Hill, NS.
"This is a great time to start a business to do good," he said, alluding to investors' growing interest in ventures that aim to address a social or environmental need.
Travis McDonough, Founder and CEO of Kinduct Technologies, also stressed the importance of effort.
McDonough, whose company has developed data analytics and AI software to enhance health and athletic performance, said technology is a tough space.
"Burn the boats, be fully engaged in the process," he said. "I've been second in sport, I've had mediocre businesses. I have full, unadulterated investment in my business now."
He said the founders and staff of a company need a shared vision.
"We need to believe we are just as good as people in other regions," added McDonough, who has spent the last 12 months in Silicon Valley.
Innovacorp Unveils $1.7M in Non-Dilutive Funding
Chris Cowper-Smith, Co-Founder and CEO of Spring Loaded Technology, described the excitement of bootstrapping his company, which uses a liquid spring to store kinetic energy in a knee brace.
The company's initial prototype was disappointing and the spring had to be re-invented. Their first client was the Canadian military, but he said growth is never a straight line.
"Don't get hung up on one thing," he advised.
"Employees are the most important resource. You must invest in them if you want to be successful," he added.
Saeed El-Darahali, Founder and CEO of SimplyCast, also stressed the importance of people.
SimplyCast has marketing systems that acquire and manage customers for businesses. The CEO advised listeners to find good partners and choose a chairman carefully.
"Bill Ritchie Is the reason I'm successful," he said of SimplyCast's Chairman.
Stephanie Holmes-Winton, CEO of The Money Finder, said she founded her company because she wanted financial advisers to offer clients financial advice, not advice on buying financial products.
She raised $1 million in revenue before hitting problems. The Next Phase workshop run By Toon Nagtegaal and David Crow put her venture on track.
"Successful startups have a lot of road rash…That's how you get successful," she said.
The presenters expressed gratitude to the many individuals and groups who have supported them.
George Palikaras, Founder and CEO of Metamaterial Technologies, a company which manipulates light, praised Canada and Nova Scotia.
"I owe everything to this amazing country," said the native of Greece.
He said he received help because he asked for it and he advised listeners to do the same.
He stressed the three Ts: team; technology and traction. Metamaterials has gained traction through working with its partner Airbus.
"There will be a lot of problems along the way but it's all in your hands," he said. "You have to reinvent yourself.
"We founded our team, our concept, our company more than ten times. We founded again and again until we made it happen."
Tim Gillis, CEO of healthcare tech company STI Technologies, spoke of the company's exit. STI was purchased by American multinational QuintilesIMS.
"Run your company as if you're ready to sell tomorrow," he said. "Have a Board of Directors and have audited financials."
He said STI received multiple bids, but made sure to secure a sale before interest waned. They closed the deal, said to be worth several hundred million dollars, in early February.
Event host John Hamblin told the audience that there are so many successful local startups that a similar event will be held in the New Year.