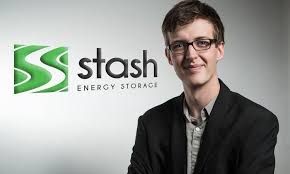 With heat pump technology improving and the devices becoming more popular, Fredericton's Stash Energy is well positioned to build a business around storing that energy.
Stash co-founder and CEO Jordan Kennie believes Stash is the only energy storage venture in North America that is working with heat pumps. The startup intends to sell energy storage by partnering with utility companies.
Kennie said working with heat pumps is complicated by the fact that they work at low temperatures. Stash's answer is a chemical solution that stores heat energy at 40-50 C — baseboard heaters or furnaces work at around 60-70 C, he said. The team is currently preparing to patent its technology.
Kennie said there were problems with early types of heat pumps — some didn't work well at low temperatures, for instance. But he said heat pump technology and efficiency have improved.
"Most new homes being built in the Maritimes are now being fitted with heat pumps," he said.
"The North American market for heat pumps was worth $2 billion to $3 billion in 2008 and is now worth $7 billion to $8 billion."
He said heat pumps are more efficient than other common forms of heating. They also cool buildings in summer, vastly expanding Stash's potential market.
The Stash system works with conventional heat pumps to thermally store energy. The stored energy reduces peak electricity consumption and allows use of more electricity from renewable sources.
"We aim to store as much energy as possible," Kennie said. "For example, if the wind is blowing at night, that energy can be stored."
The startup is midway through a pilot project with P.E.I. utility company Summerside Electric. The company's website states that 46 per cent of Summerside's electricity comes from wind power, the highest percentage on the continent.
Kennie said Stash's three co-founders are currently in the process of closing a pre-seed investment round. This round will help them finance their initial work with several regional utility companies. They intend to begin with other small utility companies, like Summerside.
"We don't want big clients to start off and bankrupt ourselves. We want to grow organically," he said.
NBIF Backed 29 Startups in 2016-17
In time, the company will need to get outside the region and into other markets. The federal government's trade commission services are already helping Kennie make international contacts. Stash is also in talks with utility companies that own power companies in the Maritimes and across the Americas.
The Stash team — Kennie, chief operations officer Daniel Larsen, and Erik Hatfield, chief technology officer, met at the University of New Brunswick when they were all taking electrical and computer engineering.
Larsen went on to focus on power systems and utility grids, Hatfield focused on computer engineering. Kennie enjoyed electrical engineering and technology but gradually realized he didn't want to be an engineer.
In 2015, the last year of their electrical engineering degree, he, Larsen and Hatfield took the school's technology management and entrepreneurship (TME) diploma program. They designed an energy storage system for heat pumps that became the foundation for Stash Energy.
It was a turning point for Kennie.
"We learned how to commercialize technology and I fell in love with that side of things," he said.
Kennie has since received a master's degree in TME from UNB and was recently awarded Startup Canada's 2017 Young Entrepreneur of the Year Award. Stash has also made it onto UNB's new Energia accelerator for companies in the energy, cleantech and cybersecurity fields.
Like others in the cleantech space, Kennie is passionate about his subject.
"Our big vision is to try to enhance renewable energy," he said.
"You hear all the time about coal and diesel generators that run only on the coldest days of the year. We are wasting a lot of money on environmentally terrible ways of producing power. We hope to not have that happen anymore. This is our part of the answer."