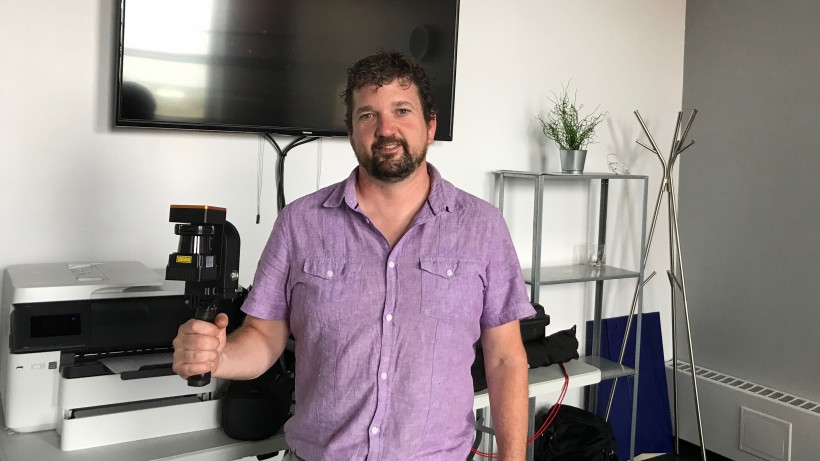 A Halifax startup that specializes in large-scale, 3D scanning projects has received a $321,000 loan from the Atlantic Canada Opportunities Agency.
Smarter Spaces CEO Colin Gillis said the funding will allow him and his co-owner, COO Dan MacIntosh, to hire more employees and grow the business.
The company offers customers a variety of related services that involve scanning and modeling buildings, as well as other large environments. The team uses the results to create either two-dimensional blueprints or three-dimensional computer models.
"We're about data and accuracy. That's at the core of everything we offer," said Gillis in an interview. "(The loan) will let us scale up and expand what we're doing."
The company uses one of three scanning devices, depending on the requirements of the specific client: a handheld scanner with accuracy in the range of one to three centimeters; a tripod-mounted "terrestrial" scanner with one to four millimeter accuracy; and a specialized camera.
The 3D scanners use LIDAR, which stands for Light Detection and Ranging. It employs laser pulses to sense how far away a surface is from the scanner, which can then be used to create a "point cloud"—a collection of millions of data points with vertical and horizontal coordinates.
Employees at Smarter Spaces' Grafton Street office convert the raw data into two-dimensional blueprints or 3D models. Much of their work is done with tools from American architectural and engineering software company Autodesk.
Gillis estimated that about 20 percent of the time required for a given project is usually spent on the initial scanning, with the rest going to the processing and modeling work.
The camera equipment is used to create virtual tour-style models that are not accurate for measurement, but show the viewer what the interior of a structure looks like, such as for marketing purposes.
"What we're trying to accomplish with the business model is that if they don't need millimeter accuracy, we don't give it to them, because it's more expensive," said Gillis.
An example of a possible application for the two-dimensional scanning is the World Trade and Convention Centre on Argyle Street. Smarter Spaces spent four days scanning the facility after its purchase by George Armoyan's Armco Capital. The original blueprints were out of date and inaccurate, so Gillis, MacIntosh and their team created a fresh set of drawings.
The processes are not patented because the industry is evolving so rapidly that the costs associated with maintaining the patents would be unreasonable. Instead, Smarter Spaces employs a trade-secret model in which they rely on discretion, good judgment and information security to protect their methodology.
"We spend our effort on what's coming out, what's new, what's being researched and how we can integrate those technologies," Gillis said.
The company also offers 3D scans of outdoor areas and building exteriors as part of a partnership with AeroVision Canada, and is expanding into the emergency preparedness field. Gillis said the emergency-related business involves helping clients develop contingency plans suited to the layouts of their properties, such as helping emergency responders access floor plans during "aggressive shooter" events.
Founded in 2016, Smarter Spaces currently employs eight staff, one of whom is the company's first "field team lead," hired using the ACOA loan. His role will be to help the company expand into serving clients outside Halifax, including other countries.
Gillis also expects to spend a portion of the loan on hiring a staff member who will focus solely on sales and business development, probably within the next quarter. Smarter Spaces currently lacks dedicated sales staff, with the responsibility largely falling to its management team.
They have not yet accepted outside investment and have no immediate plans to do so, but are not ruling out the possibility in future.
"We've had the conversation that if we think it can scale up ten times faster, we're not opposed to it," said Gillis.
Disclaimer: ACOA is a client of Entrevestor.