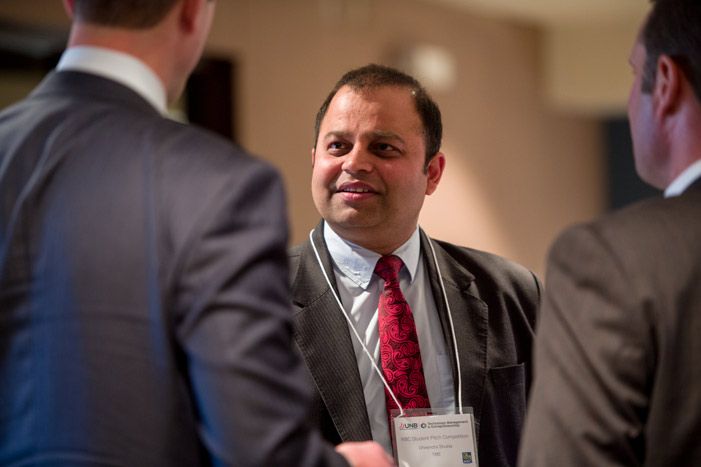 In the Engineering Faculty at the University of New Brunswick, there's a lot of talk these days about what they refer to as "TME Next" or "TME 5.0".
A familiar abbreviation on the Fredericton campus, TME stands for Technology, Management and Entrepreneurship. It is the university's flagship entrepreneurship program, a 29-year-old program that now counts 540 students among its participants. Like some of the startups it produces, TME has been doubling in size recently, and now its overseers are wondering what the next stage of growth will entail.
In an interview in Old Head Hall, the faculty's headquarters that has the feel of a 1920s schoolhouse, Dhirendra Shukla said the options include a PhD program in entrepreneurship, a ramping up of its Energia accelerator, a program to help mature companies grow, or all of the above.
"We are thinking about what's next for us," said Shukla, whose formal title is Dr. J. Herbert Smith ACOA Chair of TME. "Some are calling it TME Next. Some are calling it TME 5.0."
In the late 1980s, UNB received funding to offer programs in entrepreneurship, and TME ended up in the engineering school. That turned out to be a fortunate development because UNB became adept at converting its engineering research into young businesses. Since it started, TME has had four different heads, which is why the faculty is referring to the next phase as TME 5.0.
Since 2014, TME has produced 65 startups, including such high fliers as Resson, the agtech company that received US$11 million in venture capital last year. Shukla admits some of them are in the very early stages and may or may not last, but adds that's simply the way of startup life.
EChart Ahead of Schedule in its 3-Year Roll-out Plan.
He said the current TME program has four pillars:
Academic. TME has offered a diploma to students throughout the university for years. Last year, it added a Master's degree, and there are now 13 students taking this course. Shukla said the total enrollment in TME has increased 97 percent each year since 2007.
Research. The program's R&D component is focused on the development of the "smart grid" in New Brunswick. This project, led by German industrial giant Siemens, NB Power and UNB, is developing new ways to assess and balance power demand and supply in the province's electricity grid.
Experiential. The first component of this is the one-year-old Energia Ventures accelerator, which specializes in cleantech and cybersecurity. Shukla beams with pride when describing this facet of TME, noting that at least four of its first six companies now have attracted paying customers and/or investment. "I don't think we've seen any other accelerator that has shown the success that Energia has," he said. The second component is the Summer Institute, a three-month summer program that has special strength in culture-based ventures. Nine-tenths of the latest Summer Institute entrepreneurs were women.
Engagement. Shukla said a major part of the TME mission is to help entrepreneurs throughout the university and beyond to prosper. The program offers a range of seminars, funding to new companies and promotes female leadership.
UNB is now trying to figure out how to build on this program. A PhD in entrepreneurship would be the first of its kind in the region, and the university is one of several groups in Atlantic Canada wondering what it can do to help mature companies grow. The faculty has just added an assistant professor David Foord as a Director of Innovation, and will soon name a new managing director of Energia.
"Now what we're doing is building capacity to add greater scale to what we do," said Shukla. "I think we've got a strong team … and I'm super pumped and growing further."