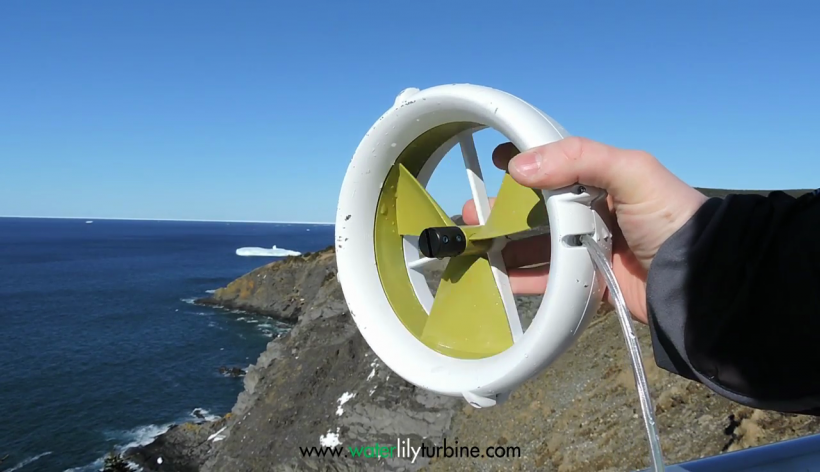 A funny thing happened when Seaformatics prepared to launch a power product for oceans research: it came up with a retail product that has already been pre-ordered by more than 300 outdoors enthusiasts.
The St. John's company is now preparing to launch Waterlily, a micro-turbine that can use wind or water power to recharge any device with a USB port. The idea is that outdoor folks, backwoods camp owners, or remote workers can use Waterlily to recharge their phone or devices.
"The pre-orders have been going really well," cofounder and CEO Andrew Cook said in a phone interview last Thursday. "In the first 30 days — well, it was really the last two weeks of April — we had 200 preorders and as of today we had 318 and we're still going strong."
Cook and his team are surprised by the response they're getting from the marketplace, but what's really interesting is the story of how Waterlily came to be.
Seaformatics was developed by scientists at Memorial University, who set out several years ago to produce a renewable power source for ocean-monitoring equipment.
Its Sealily product harvests power from ocean currents to provide constant electricity for the equipment. Researchers would no longer need to endure the time, cost and risk of going to sea to replace batteries in their monitoring gear.
The company is a tenant of the Genesis Centre, the startup organization on the MUN campus, which in March gave the company a bit of money to make a small prototype of the Sealily. It was going to be a demonstration model, a mini version of the product that they could display at trade shows.
Empowered Homes Lands $600K in Funding
Almost on a whim, they decided to video the small model and put it up on Facebook to see what people thought.
"We started it as a test, just to see if there was a market for this device," said Cook. "The video got 22,000 views in the first two days we so decided to do preorders for it."
The Seaformatics teams decided to generate preorders through its website and social media rather than on a standard crowdfunding site. Launching on a site like Kickstarter would have required a more structured campaign. And Seaformatics is not asking its customers to pay up front.
Even with the more casual plan, the company has received more than $45,000 in preorders in about a month.
"Our goal was to have 100 preorders by the beginning of May, and we basically doubled that without doing any marketing," said Cook. The product was even featured in a one-minute profile on the Discovery Channel's Daily Planet, which is probably one reason the preorders have poured in from 14 countries.
The company is now planning to produce 2,500 Waterlily units this year.
They hope to deliver one shipment in August and another in October. They plan to do more direct sales, to hopefully offer the product on Amazon later this year and through retailers in 2018 and 2019.
Sealily is still in Seaformatics' long-term plans, but client feedback is forcing the team to look at new versions of Waterlily. The current eight-inch product generates five volts of power, but some clients (especially boaters and RV owners) have asked for a 12-volt iteration.
Right now Cook is working on raising about $750,000 in financing to cover the production costs, and finding a manufacturer. The flood of interest in Waterlily has begun to calm down and he's no longer overwhelmed by preorder inquiries.
"It's been pretty crazy," he said. "Today's the first day in a month I've had fewer than 10 unread emails in my inbox."