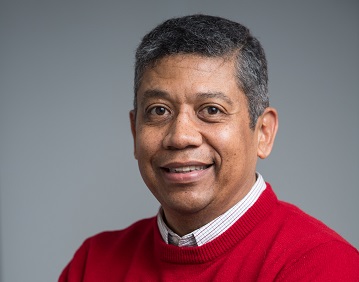 As the first cohort of Energia Ventures concludes, Managing Director Ed Rodriguez is seeking seed capital to help the program attract quality participants from around the world.
The accelerator for companies in the energy/smartgrid, cleantech and cyber security fields kicked off at University of New Brunswick late last year, supported by private and public groups, including the Atlantic Canada Opportunities Agency.
The first five participating companies all came from UNB's Technology Management and Entrepreneurship program. But Rodriguez said follow-on cohorts will be recruited regionally, nationally and internationally
"We need to resolve the issue of seed capital," he said.
"The leading accelerators internationally, especially in the U.S., offer US$100,000 to $150,000 in return for three to six per cent of equity…That's a hurdle we are focused on resolving so we can recruit high-quality startups globally."
Rodriguez said the first cohort of five lost one participant, but the other four companies will "finish strong" within the next few months.
"They are garnering significant follow-on investment, a key indicator of success," he said.
Cohort No. 2 will begin late this year or early in 2018 and will run for six months.
A newcomer to Canada, Rodriguez was born and raised in Puerto Rico, and has extensive experience in the public, private and non-profit sectors in the U.S and worldwide.
Comparing the startup ecosystems in Atlantic Canada and the U.S., specifically Silicon Valley, he said the Atlantic Canadian ecosystem is much more founder-friendly.
"There are lots of unicorns and success stories in Silicon Valley, but also lots of roadkill," he said.
UNB Opens Marine 3D Printing Centre
Atlantic Canada's living lab is an advantage that has attracted Siemens Canada to join with UNB and NB Power in creating The Smart Grid Innovation Network to provide companies with a new testing platform.
"In New Brunswick, you have the full range of power generation sources and power generation modalities in a relatively compact geographic area, with a population representative of Canada as a whole," Rodriguez said.
"It's possible to pilot and test new technologies that can be applied to different parts of the world. That's a competitive advantage that needs to be leveraged even more."
Rodriguez said Atlantic Canada's more abundant public sector supported funding programs, especially relative to the U.S., is another advantage; as is the rich legacy of Maritimer ingenuity.
"It's just as good as Yankee ingenuity," he said. "I've marvelled as I've researched the history of Atlantic Canada at some of the seminal inventions birthed here.
"For example: kerosene, key precursor to gasoline; the compound steam engine for shipping; the variable-pitch propeller; the stabilizer bar for cars; bionic prostheses; the combined hot and cold water faucet etc."
Linking companies working in the areas of energy/smartgrid, cleantech and cyber security into one accelerator might seem odd, but Rodriguez said the grouping makes sense.
"We are seeing growing clarity and focus at federal and provincial levels regarding creating traded industry clusters around energy/smart grid, clean tech and cyber security," he said.
"Those are key reasons why we decided to focus on those verticals."
As a new Maritimer himself, Rodriguez is on a learning curve that includes adapting to winter. His new life all came about because he married New Brunswicker Neallie Morrison.
He said the couple met on eharmony in 2012. Back then, Morrison was working for Xplornet, but she has since started a catering venture called Nessie's Pantry, named for her great grandmother.
"Before coming here, the farthest north I'd been was Cambridge, Massachusetts and I thought this is probably the coldest I will ever be, then I wound up here," Rodriguez said.
"I've survived the worst winter in a generation, and I didn't run away so I'm here to stay…Winter gets a little old and harrowing, but I've lived in many places and I truly feel this part of the world is one of the most beautiful."