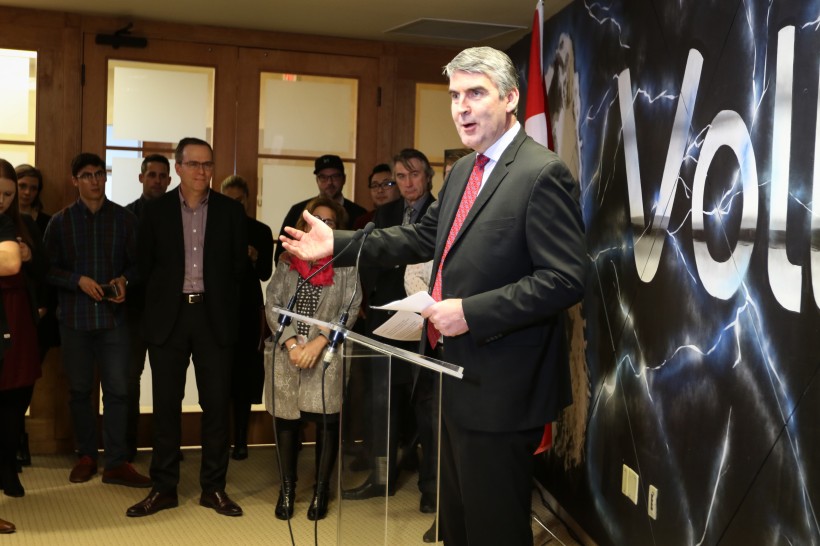 The Nova Scotian government has committed $2.25 million to the expansion of Volta Labs, which plans to triple the size of its facility in downtown Halifax.
The government's contribution to the startup house follows on a $2 million commitment announced by the Atlantic Canada Opportunities Agency and Innovacorp in September. The government bodies are helping to establish a major tech hub in the Maritime Centre in Halifax as a cornerstone for the city's innovation district.
The funding comes as Volta prepares to triple its size, and thereby triple its capacity to house and mentor high-growth companies. The organization said in July it had signed a lease to take out 60,000 square feet of space in the Maritime Centre. The startup house this winter will take over the ground, mezzanine and second floors of the 19-storey office tower on Barrington Street.
Premier Stephen McNeil toured the existing two-storey facility on Tuesday with Volta CEO Jesse Rodgers, meeting several entrepreneurs and learning about the operations.
"Thank you for taking the risk," he said to one group of founders attending the Propel ICT cohort at Volta. "I hope you all get rich, and that you provide jobs for the next generation."
Volta Labs was established in 2013 by a group of emerging entrepreneurs and is now a cornerstone of Halifax's innovation district.
MyMem Proceeds with Funding from Volta Cohort
The expansion will make Volta one of Canada's largest technology hubs. The expansion will include more office space for startups of all stages and sizes, and a new event space on the Barrington Street level. The investment will also support operational costs related to the expansion over the next three years.
More than 50 early-stage companies have worked out of Volta Labs since its inception in 2013, and more than two-thirds of them are still in business
"This investment will help us support entrepreneurs and create a home for the technology community in Halifax," said Rodgers in a statement. "As Volta expands and our startup community grows, we will continue to be the place where high-potential founders come together, learn from each other, and build globally competitive companies. This is key to building Halifax's innovation district."
Disclosure: The Nova Scotia government is a client of Entrevestor.