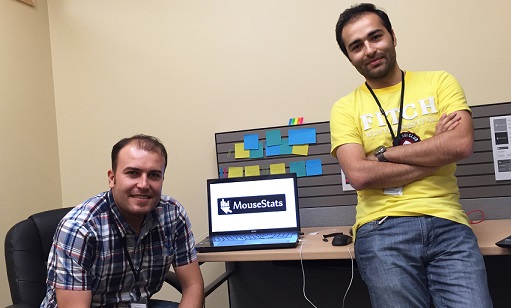 You're probably never going to meet two happier entrepreneurs than Kousha and Ehsan Nakhaei, and not just because their startup MouseStats has attracted blue-chip clients.
They're elated just to be in Nova Scotia.
The Nakhaei brothers arrived in Halifax from Iran this month, having been accepted in the Canadian government's Start-up Visa program, which allows entrepreneurs to move to Canada. They had been working on getting to Halifax for about a year and a half, and their joy at being in the city was palpable.
"It's perfect," Kousha Nakhaei said in an interview Tuesday in their office at the Innovacorp Enterprise Centre.
"People are the most important thing, and the people here are too kind. How wonderful people are when they are smiling at you."
The journey to Halifax was a long one, and it began — as entrepreneurs' stories often do — with a series of startups that produced mixed results. Kousha is the technical brains of the pair, and Ehsan has a background in business management. Together, they launched eight web-based products.
Biopolynet Wins StatOil, GE Award
But they had trouble assessing which elements of each website were reaching an audience so they devised a product that could help users analyze the specific parts of each web page.
MouseStats is an analytics tool that can tell the users what images, icons, widgets or other components on a web page are gaining traction with the public. The key function in the product is the HeatMap, which assesses how long viewers' cursors hover over each part of a web page. Parts of the page that are viewed a lot appear as hot colours when the page is viewed through HeatMap.
The other features include Visitor Recording, which shows how individual visitors interact with a page, and Form Analytics, which shows how visitors react to each field when filling out a form.
In total, MouseStats features give users a deeper understanding of how the public interacts with their online content.
MouseStats won an award for the best English-language website in Iran, and its clients include Intuit in Mountain View, Calif., and Mobistar of Belgium.
But being based in Iran proved a huge obstacle because the country has been under international sanctions for the last few years. That meant the Nakhaei brothers were trying to market their product internationally but could not use international banks or credit card companies.
So two years ago, they began to look for a new home and found information on the Nova Scotia sponsorship program on the Canadian Citizenship and Immigration website. They liked the look of the East Coast, so they applied to Innovacorp to sponsor them. (Disclaimer: Innovacorp is a client of Entrevestor.)
Innovacorp agreed to be a sponsor, then the Nakhaeis had to work with the federal Immigration Department to secure admission under the new Start-up Visa program. They were accepted this month and landed in Halifax two weeks ago.
Now the brothers are focusing on building their business. They are starting to work on securing investment and are focused on accelerating their growth now that they no longer have to worry about the obstacles they faced in Iran.
"We have a clear plan, and our product will be expanded," said Kousha.
"We have never advertised, and thanks to being in Canada we are going to start a marketing campaign."