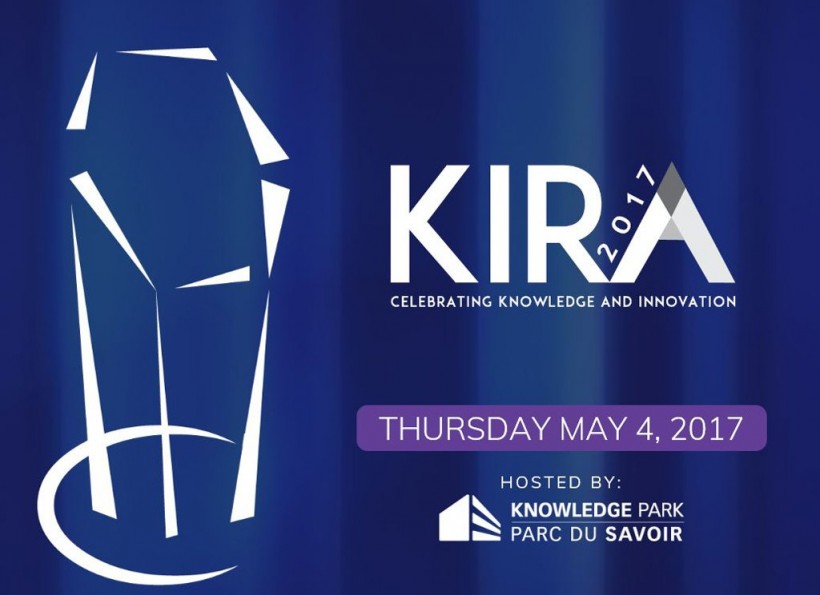 James Stewart finally took the stage at the Fredericton Convention Centre on Thursday night, winning not one but two Kira Awards.
Stewart is the Co-Founder and CEO of EhEye, a digital security company that enhances the use of video in security. EhEye this year was a finalist in the New Brunswick Innovation Foundation's Breakthru competition, but didn't make the top three in a really strong field. It was the third time Stewart had entered Breakthru.
Thursday night, at the 18th annual Kira Awards, was Stewart's night as EhEye won Kira Awards for Most Promising Start-up and Innovation through Technology.
Saint John-based EhEye has been getting some buzz lately as it is finding interest for its product, which notifies authorities if there is something suspicious caught on the video. In other words, it can recognize someone wearing a ski mask or carrying a gun in a crowd. At a packed stadium, it can even recognize if someone is carrying a backpack and later is walking around without the backpack. Stewart says the owners of facilities such as stadiums are interested because of growing concerns about safety and security.
"We're in the right place at the right time with the right product," Stewart said at a recent pitching event in Halifax.
EhEye Is Transforming Video Surveillance
Bulletproof Opens Cybersecurity Centre in Fredericton
The Kiras – or Knowledge Industry Recognition Awards – are presented annually to members of New Brunswick's knowledge industry in recognition of excellence in developing a knowledge-based economy in the province.
Another security company, Fredericton-based Bulletproof, won the award for Economic Impact through Innovation, and took home the people's choice award, as voted on by the 500 attendees at the event.
Bulletproof is an IT services company that recently opened a Security Operation Center in Fredericton.
In total, five organizations and one individual walked away with the coveted KIRA Award.
"Living in an environment with an entrepreneurial and innovative culture just doesn't happen – it is fostered," said Kira Co-Chair Heather MacLean in a statement. "It is encouraged and it is supported by an entire community. …We have tremendous talent located right here in the province and ensuring that we create the right environment is essential. The KIRA Awards are a part of that environment."
The other winners are:
ˑInnovation Champion: The Institute of Biomedical Engineering;
ˑMost Innovative Product or Service: Soricimed Biopharma Inc.;
ˑPremier's Awards for Innovation - Private Sector: Northern Hardwoods Research Institute;
ˑAnd Premier's Awards for Innovation - Public Sector: Integrated Service Delivery for Children and Youth.
"Each year approximately 500 industry professionals gather to not only recognize the great talents that we have in this province, but also to learn more about all the developments taking place," said KIRA Co-Chair Lori MacMullen. "Our industry is so vibrant and dynamic that the KIRA Awards play a significant role in making connections and fostering collaboration. When you look at the talent that we have right here in New Brunswick, it is not hard to understand why we are having the successes we are in the global marketplace."