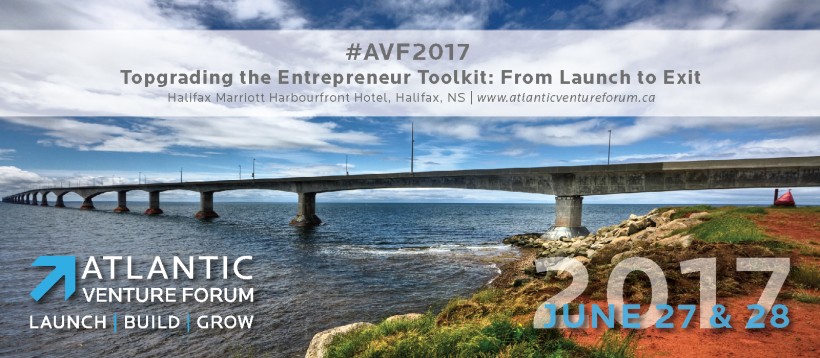 The Atlantic Venture Forum this year will feature a panel discussion on the hard-won lessons from two of the most prominent exits of the last year – the sales of Halifax-based companies Goalline and STI Technologies Ltd.
The AVF is a two-day conference that links investors inside and outside the region with some of Atlantic Canada's leading startups or high-growth companies. It will take place June 27 and 28 at the Halifax Marriott Harbourfront Hotel. Tickets are available here.
The conference kicks off with an Entrepreneur Bootcamp on June 26 – just 10 days away – and the Propel ITC Demo Day on Monday evening.
One panel session this year will be a discussion with Tim Gillis, the CEO of STI, and Gord Dickie, the Founder and CEO of Goalline, about their exits.
"Get the inside scoop as these two entrepreneurs break down their respective journeys as they exited their companies," said a promotion from Critical Path Group, the organizer of AVF. "Listen in and learn how to avoid some key problems, adapt during expansion, and prosper through hyper-growth as they forge their path towards a successful exit."
Read About the 12 Atlantic Companies Presenting at AVF
STI Technologies started out in 2002 to solve a problem for the pharmaceutical industry by simplifying the way pharma companies distribute samples of new products. Rather than shipping out small samples to doctors and have them hand them out to patients, the STI platform allows drug companies to send physicians smart cards they can hand out to patients, who take them to a pharmacy along with a prescription to receive the drug.
In February of this year, the company was taken over by QuintilesIMS, which has dual headquarters in Connecticut and North Carolina. The deal was reportedly worth more than $200 million.
Goalline, which provided websites to youth sports leagues, was bought in May 2016 by Blue Star Sports for an undisclosed price. At the time of the sale, the parties said they planned to develop an integrated technology platform for minor sports.
Founded in 2002, Goalline is a leading provider of web software and mobile applications for youth sport organizations. It has more than 10 million users and is best known for its easy-to-use web pages for sports leagues.
Discussions with entrepreneurs who have gone through exits can be fascinating stuff. The first Startup Empire conference in 2014 featured a tremendous panel with Jeff Thompson, founder of Fredericton-based UserEvents, and Daniel Debow, Senior VP at Salesforce and founder of several startups, who frankly described what it's really like to be taken over.
Disclaimer: Critical Path is a client of Entrevestor.